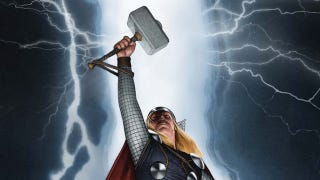 What's in stores Wednesday? A new release from Bone's Jeff Smith, new Walking Dead and Thor, and some of the most memorable Green Lantern stories ever published. Come and see!
First Issues
Just in time for the movie to hit theaters, Fear Itself scribe Matt Fraction and Oliver Coipel start up a new run on Marvel's The Mighty Thor.
And if you're a fan of 1980s horror superteam weirdness, DC is reprinting the first couple issues of Marv Wolfman and Gene Colan's cult series Night Force in DC Comics Presents: Night Force.
Other first issues include Danger Girl And The Army Of Darkness (Bruce Campbell + form-fitting clothing), Planet of the Apes (damn dirty apes + prequel to the 1968 movie), and Strange Case Of Mr Hyde (Dr. Jekyll + Jack the Ripper).
Other Releases
The standout release this week is the tenth issue of Jeff Smith's thrilling scifi comic Rasl, a rough-and-tumble tale about a universe-hopping art thief/physicist on the lam. New issues of Rasl come out once in a blue moon (and there's also a movie in development), so this is a rare treat.