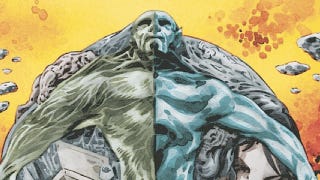 What's heating up comic stores this summer? Big summer extravaganzas for the Flash and Thor, new Hellboy and Locke and Key miniseries, and the return of the League of Extraordinary Gentlemen. Here's a sampling of this summer's comic goodies.
Also remember, Free Comic Book Day is Saturday, May 7 this year — click here to feast your eyes on this year's no-cost offerings.
Gladstone's School for World Conquerors
In this cute-looking, kid-friendly miniseries by Mark Andrew Smith of The Amazing Joy Buzzards, a bunch of wee baddies learns the ins and outs villainy at a bad guy academy. Check out some adorable art by Armand Villavert here (Image, May 4).