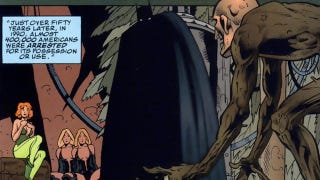 Today is April 20, a day better known as International Planetarium Laser Show and Ding Dong Appreciation Day. In honor of this momentous celebration, we bring you a bevy of fantastical characters from speculative fiction who probably smell like patchouli.
10.) Breckin Meyer in Freddy's Dead: The Final Nightmare
Freddy's Dead was one of the crappier Nightmare on Elm Street sequels, but it did feature this memorable sequence in which Freddy Krueger offs the film's pothead using video games, Iron Butterfly, and an inexplicable Johnny Depp anti-drug PSA.
9.) The Class of Nuke 'Em High
In this 1986 Troma flick, New Jersey's Tromaville High School is conveniently located next to a leaky nuclear power plant. The student body smokes mutated weed that's growing next to the plant — they subsequently develop superpowers and give birth to squirming monsters.
8.) The Great Wize Wizard from Your Highness
Your Highness, which was a love letter to such stoner stalwarts as Labyrinth and The Dark Crystal, brought things full circle with a creepy toking puppet.
7.) Mayor Mitchell Hundred from Ex Machina
In Brian K. Vaughan and Tony Harris' comic book, Mitchell Hundred is both the mayor of New York and a former superhero who can speak with machines. Unfortunately for Hundred, the espresso makers and light bulbs and car engines of the world never shut up, so hizzoner smokes pot to silence them.
6.) The Leprechaun
Before he went to space, Warwick Davis' magical villain smoked weed in not one, but two Leprechaun flicks. In 2000's Leprechaun In The Hood, he shared a joint with Ice-T, and in 2003's Leprechaun Back 2 Da Hood he graduated to bong rips. The Leprechaun wigs me out, but he doesn't hold a nightmare-inducing candle to Darby O'Gill and the Little People.
5.) The parents from Poltergeist
Poltergeist had a strong anti-drug message. If you smoke pot responsibly and within the confines of your home, a demon from another dimension will abduct your children. It's as simple as that.
4.) Spider-Man: Fast Lane
In this 1999 PSA comic (which was one of many strange Spidey PSAs), Peter Parker is saddled with an idiot intern named Sam who gets stoned on the job. Sam (who has a regrettable soul patch) acts like he's on PCP and tries to walk off the Brooklyn Bridge, so Spider-Man must intervene and give the doofus a stern lecture.