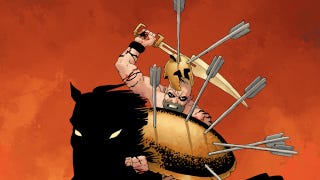 Just in time for 4/20, Ziggy Marley's THC-themed superhero drops by comic stores to trick crooks into thinking they're dying (so they'll call 911 on themselves). Plus, new Peter Bagge and a metric bongload of new graphic novels!
First Issues
The most promising new comic this week is the return Dark Horse Presents. The latest installment of this 80-page comic-and-prose anthology includes new work from such luminaries as Harlan Ellison, Carla Speed McNeil, and Howard Chaykin, the return of Paul Chadwick's rocky everyman Concrete, and a first look at Frank Miller's prequel to 300, Xerxes.
As for the rest of the grab bag, IDW is releasing Matt Sturges' Doctor Who: A Fairytale Life (a four-issue miniseries about Amy Pond trapped in a medieval fantasyland) and the Infestation sequel Zombies vs Robots: Undercity (check out our preview here).