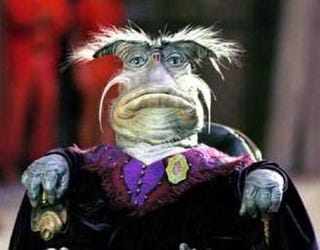 Creator of Farscape Rockne S. O'Bannon set the internet ablaze by announcing a new television series with Syfy. So what could this mysterious project be? A whole new space opera or the Alien Nation reboot we've been waiting years for?
On April 16th, Rock O'Bannon twittered this little news tidbit:
Great meeting at Syfy yesterday. New project. HUGE. New series. Very excited. Very, very excited.
Fantastic! We love O'Bannon's work and we're excited to hear about new scripted shows for Syfy. Our gut tells us that this might be an original series. And with Stargate Universe canceled (and no hope for a Stargate TV movie on the horizon) Syfy needs a new original space alien series. Being Human has filled the supernatural drama slot nicely, new superhero show Alphas hopes to fill the superhero void at Syfy, and Blood & Chrome could hopefully herald the return of quality space opera programming. But with Stargate gone there is a distinct lack of alien interaction on Syfy. And O'Bannon knows aliens. We suspect Syfy is dreaming up a new alien-centric series. Or perhaps, dusting off the Alien Nation reboot they've been kicking around for a few years.
Last we heard about Syfy's new Alien Nation series was in 2009 from Programming President Mark Stern. Firefly's Tim Minear was putting a slightly lighter spin on the spotted aliens from our past. But mind you, this was two years ago, and even then Stern made it known that the project was going to take a lot of time to get just right.