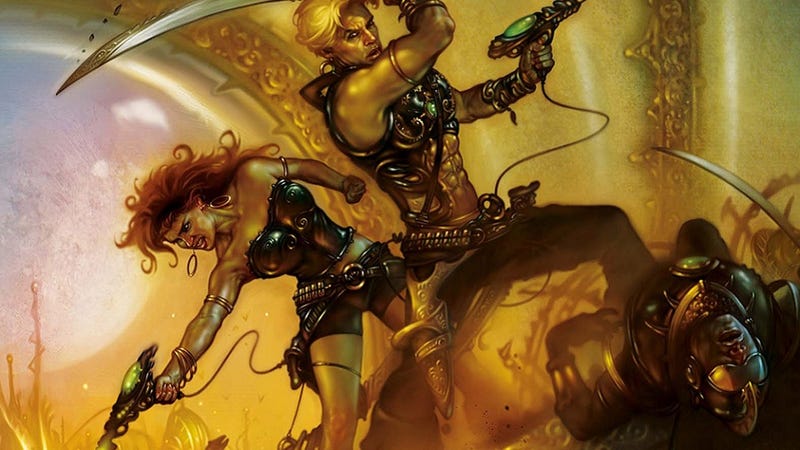 Tax day is coming! No matter how you feel about the government and the things it does, you can't help but feel a twinge of pain as you send your painstaking calculations (and possibly a hefty check) to the IRS.
But what if you didn't have to pay any taxes? What if you rose up and refused to pay taxes ever again? Science fiction and fantasy are full of tax revolts. From Heinlein to Doctor Who, people all over the solar system — and the universe at large — have nixed the tax man. Here's our list of the fiercest, most unstoppable tax revolts.

Opposing the tax-collectors is no easy business — just ask the Joker. In the storyline "Joker's Millions" (in Detective Comics and later in the animated Batman series), he inherits a gangster's huge fortune, only to learn that he owes tons of inheritance taxes. One of the Joker's henchmen suggests he just not pay, to which the Joker responds: "I may be mad enough to go after the Batman, but the IRS? Noooo thank you!"
So here are some space colonists, supervillains and adventurers who were foolhardy enough to go where the Joker feared to tread:
Rocket Robin Hood.
This popular Canadian animated series from 1966 placed the classic characters of the Robin Hood legend into deep space, setting them in "the astonishing year 3000" on the New Sherwood Forest Asteroid. Rocket Robin Hood, a descendent of the original, alongside space-age renditions of Friar Tuck, Little John and Will Scarlet, continue their battle against despotism and heavy taxation by combating such villains as Prince John, the Sheriff of N.O.T.T. (National Outer-space Terrestrial Territories), Dr. Medulla, and The Warlord of Saturn.
Deathstalker Rebellion.
No, Simon Green's novel is not a sequel to the amazingly cheesetastic fantasy movie series. Rather, it's about a historian turned outlaw named Owen Deathstalker who finances his own personal rebellion against an evil empire by hacking the "Income Tax and Tithe Headquarters." Owen transfers billions in tax revenues from the government to the rebels' accounts. Unfortunately, he inadvertently takes out his own planet's defense system, forcing Deathstalker and his band to fight both the empire and invading aliens simultaneously. Cover art by Patrick J. Jones, via CGHub.