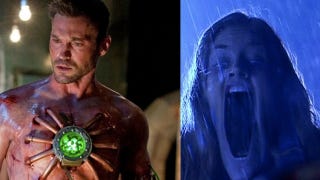 Smallville has been on the air for ten years, so plenty of famous folks have popped up on this Kryptonian soap opera. Here are ten of the more memorable guest spots, including the time Amy Adams depicted an obese vampire.
10 & 9.) Evangeline Lilly as an extra and Ian Somerhalder as Adam Knight
Before she was on Lost, Lilly paid the bills by starring in phone sex ads and appearing as a Smallville High bystander in the show's early seasons.
Somerhalder (a.k.a. Boone from Lost and Damon from The Vampire Diaries) guest-starred on the third season as Adam Knight, a dead teenager resurrected by the Lazarus Serum. In this scene, both Lilly and Somerhalder are both in the shot (she's in the background at 0:15, wearing a red shirt).
8.) Bow Wow as Lamar/Baern
In the Season 6 episode "Fallout," the ex-child rapper formerly known as Lil' Bow Wow was taken over by Baern, a murderous Phantom Zone wraith. He's shooting hoops when he's possessed — does this mean Like Mike is in Smallville canon?
7.) Adrianne Palicki as Kara
Palicki is the new Wonder Woman, but in Season 3 she previously played an analogue to Supergirl/Power Girl. Palicki played Kara, a human dead teenager/Kryptonian vessel/Clark's fake cousin/emissary of Clark's dickish computer dad Jor-El. Kryptonian family trees are more or less hexagonal corkscrews.