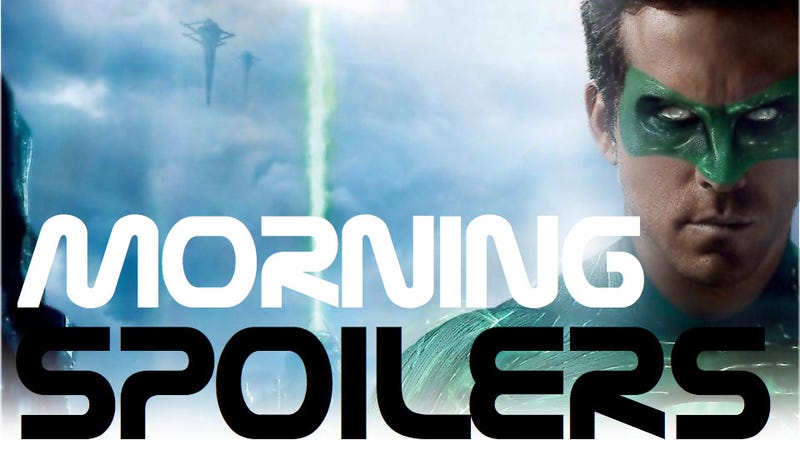 Wake up with spoilers! The Avengers' villain isn't the actor you might be expecting, and a surprising candidate is in talks to direct The Wolverine. A Thor clip and featurette reveal more about the Thunder God's Earthly soujourn.
There's also a startling backwards message from the Fringe universe, some Tron 3 hints from the director, and a possible co-star for the Total Recall remake. Watch some crucial X-Men: First Class footage, for the first time in English. And discover why two TV series may not be bringing you the weddings you're expecting.
Spoilers below!
The Wolverine
In a recent Q & A about Source Code in London, Duncan Jones reportedly said he has an upcoming meeting with Fox to discuss the possibility of directing The Wolverine. But he also reiterated that he'd rather direct one of his own original scripts, and he's attending the meeting out of sheer politeness. So the chances he'll actually take on this superhero prequel/sequel are fairly slim. [AICN]
---
The Avengers
According to an alert reader, location scouts recently visited Medical Mutual of Ohio's headquarters in Cleveland to scope it out as a possible setting for the film. So it's time to start speculating that Joss Whedon's storyline will involve Captain America and Thor going into the insurance business together. [Thanks, Philip!]
At the KAPOW comic convention this weekend, Tom Hiddleston said he won't be playing Loki in the film, scuttling fan speculation about the movie's main villain. Although some people speculate that Loki could easily be recast — in the comics, Loki is a shapeshifter and has taken on several genders — most recently being reincarnated in the body of a little boy. [The Daily Blam via Cosmic Book News]
Chris Hemsworth says this movie puts a spotlight equally on every one of its characters. "Everyone really does get a go and I think Joss has done an incredible job of throwing it together and making sure that happens." [MTV]
---
Thor
Here's a new clip, in which Thor battles a room full of hospital orderlies, and loses. Apparently, Asgardians aren't immune to our terrestrial sedatives.
Secondly, excerpts from Patrick Doyle's original score can now be heard by exploring the film's official website, separated under two sections titled "Cast to Earth" and "Ascend to Asgard". [IGN]
Finally, check out a behind the scenes featurette, and two new TV spots. [First Showing and Coming Soon]

---
Transformers: Dark of the Moon
Hasbro has accidentally revealed the identity of the film's red Ferrari 458 Italia as the pacifistic first generation Transformer, Mirage. [TLAMB]
Rosie Hungtington-Whiteley, who will be replacing Megan Fox as Sam Witwicky's love interest, believes her character, Carly, is destined to become Mrs. Witwicky, just like in the cartoons: "I found out through research that Carly was the character that Sam ends up marrying, and I was really, really thrilled to see that." [MTV]
---
Tron 3
Tron Legacy director Joseph Kosinski says a storyline is currently in the works, with a script coming once that's agreed upon. He adds:
I think we will pick with where TRON: LEGACY left off with Quorra in the real world and what does that mean and the possibilities it opens up for the next chapter. It's that relationship between the two of them that's the next step.
He also says Cillian Murphy's character, Dillinger, will play a larger role in the sequel.
Dillinger was a really important part of the first film and felt like an easy way to continue that storyline and thread to have his son in the new movie. That way you have people ask those questions of what the Dillinger legacy is in the world of TRON. We didn't want to ignore it completely and it leaves a really nice springboard for some intertwining development for the next film.
---
Total Recall
Jessica Biel is almost certainly locked to play either Lori or Melina, characters portrayed in the original by Sharon Stone and Rachel Ticotin, respectively. [Variety]
---
R.I.P.D.
Zach Galifianakis had to drop out of this "zombie cop" movie, because the scheduling became too tricky. At the root of the problem: Warner Bros. has an option for Ryan Reynolds to film a sequel to the as-yet-unreleased Green Lantern movie in a hurry if the first Lantern movie does well. So R.I.P.D. might have to be delayed while Reynolds dons his mo-cap suit a second time. Galifianakis, meanwhile, has commitments to a Jay Roach movie plus the TV series Bored to Death. So consider Galifianakis' participation in R.I.P.D. dead — for now, at least. [Deadline]
---
Tintin 2
Speaking of sequels to films that aren't out yet, British writer Anthony Horowitz has confirmed he's already slated to write a sequel to the upcoming Tintin film, based on another Tintin adventure, Prisoners of the Sun. That's the fourteenth book in the Tintin saga, and a direct continuation of its thirteenth, The Seven Crystal Balls. The story, about an ancient Incan temple, has been adapted into two episodes of the animated series, a video game and a musical stage play. [Bleeding Cool]
---
X-Men: First Class
An English version of the international trailer released last month is out now, and it includes a few sparkling bits of dialogue.