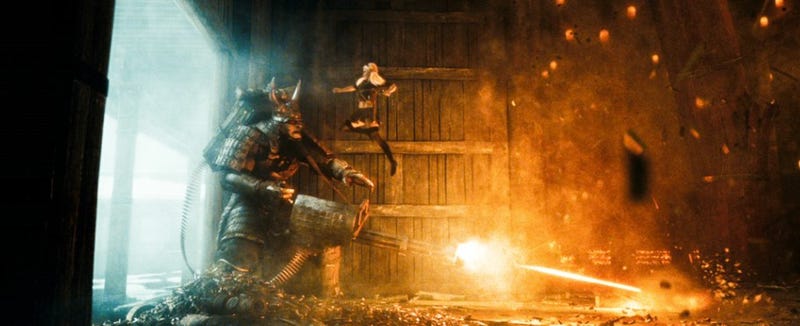 Since Sucker Punch failed to conquer the box office, there's been lots of speculation about why it was a box office failure. Was it too stylized? Was it the reviews? Did it fail to appeal to women or older adults?
Actually, there's a very simple reason why Sucker Punch won't make back its money, and why its box office returns are disappointing. Are you ready? Here it is:
It's because Sucker Punch cost $82 million to make. If it had only cost $30 million to make, it would be considered a triumph.
(Actually, there are different estimates of the movie's budget out there — people have cited numbers anywhere from $75 million to $85 million, but Box Office Mojo says $82 million, so let's go with that.)
In the aftermath of its $19 million opening weekend, box office experts have been saying that relatively low gross is not that much lower than they were expecting. After all, this is a non-franchise movie without any huge stars in it (sorry Vanessa Hudgens), from a director who has a cult following but not a huge mainstream following. And it had an off-the-wall concept that was hard to convey in posters and trailers. You'd have to be a wild-eyed optimist to expect that film to make more than about $20 million in its opening weekend.
So the question isn't, "Why did Sucker Punch only make $19 million in its opening weekend?", it's "Why did it have such a huge budget?".
This is true of a lot of movies that people consider flops — it's not really that the movie bombed, it's that it cost too much in the first place.
I was mildly surprised, the other day, to realize that Batman Begins made almost exactly the same amount of money as Superman Returns — yet, the Batman film is regarded as a huge hit, while Superman Returns is regarded as a flop. The difference: Superman Returns cost between $270 million and $350 million to make, while Batman Begins cost only $150 million to make. (But actually, Superman Returns' budget included $65 million in write-offs for previous failed Superman films, including Tim Burton's. Thanks to Robert Meyer Burnett and Silas Lesnick for pointing this out.)
I get the sense, from reading the trades and talking to people, that we're moving away from the era of over-inflated movie budgets a little bit. We reached a kind of high-water mark with the Pirates of the Caribbean films — the second Pirates cost $225 million to make and the third cost $300 million to make. By contrast, the fourth Pirates movie is being made for a slightly more modest budget.
Here's a partial list of movie budgets, based on publicly released information — obviously, these numbers aren't entirely ironclad, and they disagree with other sources, like Box Office Mojo. But it does give the sense that a lot of movies were being made for $200 million-plus even a couple years ago, and a budget in the $100 million-$150 million range was considered normal. Now, with movie attendance falling, expectations may have been scaled back somewhat for films, unless they're a sure thing — and sometimes even then.