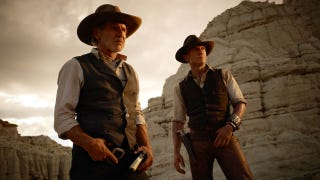 With Cowboys & Aliens, Iron Man director Jon Favreau attempts to mash up the Western genre with science fiction. How well does it work? We've seen the first two reels, and they conjure a robust John Wayne sensibility.
We also got the chance to talk to Favreau about his Western and scifi influences, and how his movie pays tribute to producer Steven Spielberg's early classics. And why he's aiming to make something more than the average blockbuster.
Back in November, we had the chance to visit the edit bay for Jon Favreau's upcoming movie Cowboys & Aliens, where we had the chance to see a rough cut of the first two reels of the movie. And now we've got the go-ahead to go into a bit more detail. While we still can't go into a ton of specifics, we're allowed to give our general impressions.