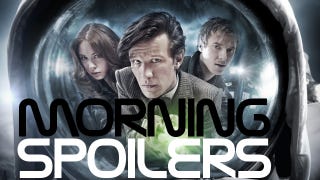 Cobie Smulders confirms her role in The Avengers, as well as the catsuit she'll be wearing.The Dark Knight Rises has found its street smart Gotham girl. Plus a rundown of the young actors in the mix for The Hunger Games!
Spoilers from this point forward!
Top image from Doctor Who.
The Dark Knight Rises
Juno Temple has reportedly now been cast in the small part of a streetwise young Gotham City girl. The current scuttlebutt seems to favor the part being that of Holly Robinson, but I suspect that may just be fan speculation crossing over into the "official" rumor mill. That said, Robinson does seem like the logical choice, assuming her character has any basis in the comics. [Variety]
---
Superman Reboot
Rumors are swirling in the Chicago area that a Warner Bros. production codenamed "Autumn Frost" is actually the Superman reboot, and that this movie is setting up shop in the Chicago area for two or three months of filming starting in August. Production will reportedly be centered in the western suburb of Plano. The current plan is rumored to be that the exteriors will all be shot in Chicago, with the interiors shot in Vancouver. [Crain's Chicago Business]
Despite Zack Snyder himself saying that Viggo Mortensen had moved on from any potential involvement in this film to work on Snow White and the Huntsman, it's now being reported that Mortensen has dropped out of the Snow White movie and might actually be back in contention for a part in the Superman reboot. That's all extremely unconfirmed, of course. [EW]
Snyder explains why this movie is different from his previous comic book adaptations:
in a lot of ways it's a different thing for me. It's a chance to do it for real. I think 300 and Watchmen are both particular in their graphic novels. I almost don't even see them as superhero movies. I see them as they're both novels. It's all about the story and the way the story exists as a work of literature. For me, Superman is a whole other thing. He's a character that we get to explore. I can make a movie that's not an indictment but really a celebration of the character.
---
The Avengers
How I Met Your Mother star Cobie Smulders has now officially confirmed she's playing Maria Hill in the movie, and she offered this update on filming and her costume:
"We start in April, which is like... tomorrow. I literally leave here and I go to Albuquerque, New Mexico, to shoot some scenes in a catsuit. I've tried on portions of the catsuit, [and] I've seen conceptual drawings of what they want it to be. It's fascinating to me. I feel like wardrobe becomes very creative on these types of movies because they literally spend weeks designing just the pants or the emblem. It's such an all-consuming process, so I'm excited to see how it all turns out."
[Zap2It]
---
Thor
Here's a fresh set of character posters. [ScreenRant]
The track listing for the upcoming soundtrack CD has been released, and the titles sound like a rather vague outline for the movie, featuring such key moments as "Odin Confesses", "Loki's Lie", and "Thor Kills The Destroyer." We won't list all 26 tracks here, but you can see a full list at the link. [Bleeding Cool]
---
The Hunger Games
Here are the rumored short lists for the two main male roles of Peeta Mellark and Gale Hawthorne. First up, Peeta:
Hunter Parrish – 23 years old (Weeds)
Josh Hutcherson – 18 years old (The Kids Are All Right)
Evan Peters – 24 years old (Kick-Ass)
Alexander Ludwig – 19 years old (Escape to Witch Mountain)
Lucas Till – 20 years old (Battle: LA, X-Men: First Class)
And now Gale:
Liam Hemsworth – 21 years old (The Last Song)
David Henrie – 21 years old (The Wizards of Waverly Place)
Robbie Amell – 22 years old (Nickelodeon's True Jackson, VP)
Drew Roy – 24 years old (Secretariat, Greek)
Readings have reportedly begun for Peeta, but not for Gale, and there may be other names in the mix for that role. So far, however, I Am Number Four star Alex Pettyfer is nowhere to be seen. [Collider]
---
Transformers: Dark of the Moon
Community's resident psychopath Ken Jeong offered a few cryptic hints about his role in the movie:
Yeah, it's a small role in Transformers but yeah. I had an out of body experience working on that one because I just couldn't believe I was [there]. Still, that was not a thing where oh, I'm going to be a part of a blockbuster franchise like Transformers 3 or even now Hangover 2 for that matter. So I can't believe I'm a part of these franchises in any way. It was amazing. Michael Bay is brilliant and it'll blow your mind.
---
Men in Black 3
Here's a new casting call for the 1960s segment of the sequel/ongoing trainwreck: