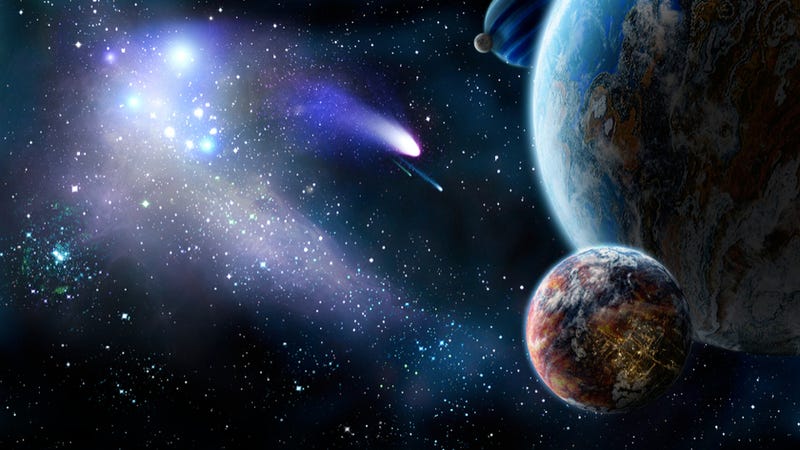 Over the last couple of years, our knowledge of alien worlds has skyrocketed. In this week's "Ask a Physicist," we'll talk about how we find exoplanets and why we might miss a second earth, even if it's right next door.
If you've been paying even the slightest attention, you'll probably have noticed that in the last year or so, the number of known or suspected extraterrestrial worlds out there has more than tripled. This being io9, your first thoughts are no doubt about starting a super-race with green-skinned alien women.
But before we set course for parts unknown, we should probably figure out the destination. It turns out that finding a second earth is fairly tough, even if there are a lot of them hiding out there. A good launching point was suggested by question from Aseel Tungekar who asks:
I have a question regarding the discovery of exoplanets. One method, as far as I understand, uses the change in a star's brightness. How do we take into account all of the planets that don't actually go in front of a planet?
The sad fact is that the earth is very small, and would be very tough to detect from another star system. It doesn't produce much in the way of gravity and even less in the way of light. In the last few years, there have been a few amazing discoveries where we've actually taken (incredibly unresolved) pictures of alien worlds. But these worlds have been several times more massive than Jupiter, and so insanely far from their stars that you're probably not interested in relocating there.
You (hypothetical io9 reader) are looking for planets with atmospheres, planets in the Goldilocks zone, close enough to their sun to have liquid water, and planets with a rocky surface that you could stand on with something approaching earth-normal gravity. Let's face it. You're not in this for advancement of the scientific frontier, you're in it for the unobtainium.
The planets you find strongly depend on how you look for them, and how lucky you get. If it turns out that a particularly awesome planet is just next door but just happens to be orbiting its star on the wrong axis, we're just SOL, since the odds are heavily stacked against us discovering it.
So how do we find planets in the first place?
Wobbles
The classic approach, and the one that has still produced the majority of planets to date, is through the wobble method. Gravity works both ways, you see. The earth doesn't really orbit the sun. The sun and earth both orbit around a point about 450 kilometers from the center of the sun every year. Stars and planets in other systems do the exact same thing. Just like in a speed trap, we can use the Doppler shift to measure the periodic back and forth motion of a distant star. No wobble, no detectable planet.
Some of these motions, especially in systems with more than one planet, can get pretty complicated, but the basic idea is simple enough. The period of the star's wobble tells us how long the year is on the planet, and ever since since the days of the original Kepler, if we know the length of a year, we know how far a planet is from its star.
In order to detect it at all, the planet needs to wobble enough to measure it. The closer the planet is to the star, the faster the wobble will be. This is just the reverse of the effect that the planets closest to the sun orbit it the fastest. This does mean that the majority of the planets we're going to find are going to be very close to their host stars — we're talking closer than mercury is to the sun, and thus, insanely hot. It is my most sincere hope that you don't need to turn to the internet to tell you that it's hot near stars. Also, don't run with scissors. The other big factor, the biggest one, really, is mass. Jupiter causes about 140 times the wobble in the sun than earth does, even though Jupiter is much further away.
This combination of closeness and mass gave us a ton of Hot Jupiters, which, while awesome and incredibly instructive about how planets form and the sort of variety that's out there, aren't exactly conducive to human habitability.
Every now and again, though, we get to be both smart and lucky, as we did last year when the Lick-Carnegie Exoplanet Survey announced Gliese 581g, or planet "Zarmina" as people have started calling it. Gliese 581g is a 3-ish earth mass planet around 20 light-years away, and it's tantalizingly close to its star's Golidlocks zone. What made the wobble noticeable in this case is that the star it was orbiting was a red dwarf, only about a third the mass of our own sun, and with a much more concentrated habitable zone.