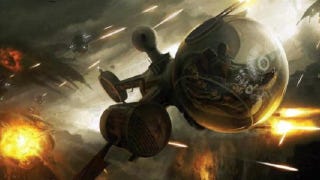 Hollywood has gone into a science fiction feeding frenzy in the past week, with several new scifi movies getting greenlit. The success of Battle: Los Angeles, on top of Avatar, Star Trek and others, put dollar signs in everyone's eyes.
But is Hollywood going too far?
The short answer is: Possibly. Just like anything else, many of these science fiction films in the pipeline will get killed before they reach our screens. Of the ones which actually appear, many will be terrible, but a few will be great. And eventually, the genre will drop off again, because these things go in cycles. For the longer answer, read on.
Top image: Promo art from Joseph Kosinski's Horizons.
So you might have noticed that 2011 is shaping up to be a bumper year for science fiction films. Our list of the science fiction and fantasy movies to watch out for in 2011 had 55 movies on it, and we could easily have made it 70 or even 75. By contrast, our list of movies to watch out for in 2010 had just 30 films on it. We're finding ourselves having to review two or three movies per weekend lately.