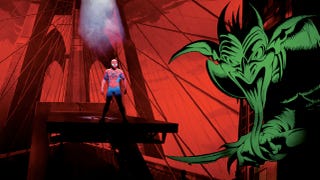 Referring to Spider-Man: Turn Off The Dark as a train wreck is both a tautology and inaccurate. After all, never in human history have two trains — upon crashing — suddenly morphed Voltron-style into a patchwork homunculus made of stray bits of caboose and bar car who suddenly begins bellowing, "THIS LOOKS BAD BUT WE CAN MAKE IT WORK."
Fortunately for the warbling webslinger, the musical is getting some serious revisions, as former writer/director Julie Taymor is rumored to be exiting with the script. But what edits could make this stumbling production stand on its own eight legs?
NOTE: Spoilers ahead.
Snarking on STOTD's production imbroglios has now become a national pastime. After a $70 million budget, well publicized cast injuries, scathing reviews seemingly determined to one-up each other in vitriol, a glowing review from Glenn Beck, its own Taiwanese news animation, and Broadway majestrix Julie Taymor getting the pink slip, the show keeps chugging along, accruing a not-show-ending $1 million a week.