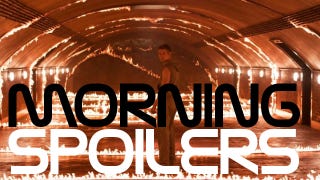 Neil. Blomkamp's Elysium gets a villain and a release date. The director and stars of X-Men: First Class explain the world of 1960s mutants. We parse Gary Oldman's cryptic description of the main villain in The Dark Knight Rises.
Spoilers from here on out!
The Dark Knight Rises
Here's some more intriguing snippets from the ever-quotable Gary Oldman. First up, some more general thoughts on how the movie works:
"The scope of it and also the way [Christopher Nolan] brings it back to 'Batman Begins,' and really what Bruce Wayne discovers about himself, what he learns about himself at the end of this one [will top off the trilogy]."
The bringing it back to Batman Begins part is sure to fuel more speculation that the third movie will feature Talia al Ghul - which we're still highly skeptical of - but that wasn't the only thing Oldman said about a potential villain. Read on... [MTV Splash Page]
So now, here's the potentially really interesting part. On the film's main villain, Oldman said:
I think it's a villain from one of the old, old, from way back from the old comics… It is a Batman villian… It's not going to be the Joker.
Now, assuming Oldman knows enough about Batman comics for that statement to be accurate, who can he be talking about? It clearly can't be Tom Hardy's Bane, as that character was introduced in 1993. Anne Hathaway's Catwoman, on the other hand, goes all the way back to spring 1940's Batman #1, but that doesn't really make sense in the context of the interview, considering Oldman both says "If I told you who the villain was, they'd kill me" and, with regards to Hathaway, "I think she'll probably wear the cat suit pretty well, don't you?" So, assuming this interview isn't just completely garbled - which is always a distinct possibility - then it seems unlikely that Oldman is referring to Catwoman, and is instead talking of some third, unannounced villain.
For what it's worth, if you eliminate Catwoman, Joker, Scarecrow, and Two-Face from consideration, the only "old, old" villains left of any note at all are Dr. Hugo Strange (February 1940), Clayface (June 1940), The Penguin (December 1941), and, if you stretch the point, the Mad Hatter (Oct/Nov 1948). Of these, Hugo Strange has been fairly heavily rumored, and he's certainly obscure enough for Oldman to identify him only in terms of his great age. But still...there's a ton of supposition and guesswork going into all this, so I wouldn't even bother taking this with a grain of salt until we hear something more substantial. Oh, and no, there's no chance he's referring to Talia, as she debuted in May 1971. [E! Online]
---
Elysium
Sony has announced a release date of March 8, 2013 for District 9 director Neill Blomkamp's second feature. The movie is still believed to star Jodie Foster, Matt Damon, and District 9's Sharlto Copley, although I don't believe any of those have been absolutely confirmed just yet. (That said, indications from the actors themselves make it all sound reasonably likely.) Anyway, the film has also gained its villain, as Wagner Moura, the star of Brazil's Elite Squad movies, has reportedly been cast as a powerful adversary with "a crazy sense of humor." The movie is believed to take place 150 years in the future on another planet in which social class is extremely important, and Matt Damon plays an ex-con. Blade Runner's Syd Mead is doing design work on the film. [Latino Review, Heat Vision, and /Film]
---
X-Men: First Class
We can say this for the film's marketing process - every time a crappy poster comes out, director Matthew Vaughn swears a lot and something cool gets released to make up for it. In this case, it's this new image of Lucas Till as Havok, one of Cyclops's relatives (he's his brother in the comics, but probably not in this prequel) with the equally hard-to-control power of emitting charged plasma bursts. [Very Aware]