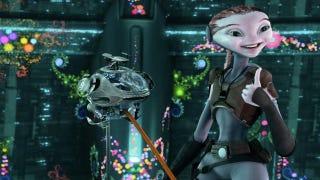 Mars Needs Moms is a decent movie. Maybe even a pretty good movie. But nobody seems excited about it, and that's probably because it was made using Robert Zemeckis' motion-capture process, as used in Polar Express and Christmas Carol.
But you're missing out on a film that's actually pretty fun, if you damn this movie just because of the fears of another Zemeckis trudge through the "uncanny valley" of dead-looking, not-quite-human faces. Mars Needs Moms looks much, much better than Polar Express. And it's a nifty adventure, based on a book by Berke Breathed. Spoilers ahead.
So let's talk about the mo-cap thing first. I think they've managed to get rid of a lot of the creepiness that was on display in Polar Express. According to this article from the New York Times, motion-capture technology has advanced massively in the past seven years, and Avatar represented a huge leap forward — nobody accused the Na'vi of being in the uncanny valley, that I know of.
I saw a screening of Mars Needs Moms a while ago, and I actually forgot this film was mo-cap until I got to the closing credits, and they showed some footage of Seth Green and other actors goofing it up while covered with millions of dots. And only then did it dawn on me, "Oh, they filmed the whole thing in mo-cap. Duh." Part of that is because I haven't really been paying that much attention to the news about this film. And part of it is because they managed to transform Seth Green into a nine-year-old boy while still preserving his movements and stuff. (Green's voice is dubbed by Seth Dusky, an actual child actor.)