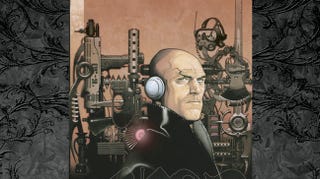 What's on the stands this week? A new printing of Gotham Central, a new host for the Venom symbiote, new Walking Dead, and much, much more!
First Issues
Marvel resurrects the CrossGen line of comics with Sigil (Mike Carey pens the script). Marvel also introduces a new keeper of the symbiote in Rick Remender and Tony Moore's Venom. IDW publishes Ghostbusters: Infestation (which features Egon and company versus the combined threats of poltergeists and undead), and Dynamite's releasing Warlord Of Mars: Dejah Thoris (which delves in the backstory of Edgar Rice Burroughs's Martian heroine).
Finally, Kathryn Immonen pens Captain America And the First Thirteen (Marvel) (a one-shot about Peggy Carter, Captain America's inamorata during World War II), and Arrden begins their resurrection of Atlas Comics with The Grim Ghost.