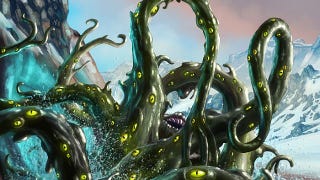 Guillermo del Toro's journey into the heart of H.P. Lovecraft's eldritch horror is really happening, a producer tells io9. At the Mountains of Madness begins filming in June? Could this be the Lovecraftian film that actually destroys your mind?
We spoke with producer Don Murphy (Transformers) who's producing Mountains of Madness along with James Cameron, and he confirmed the movie's start date as well as the star. And he told us what to expect.
Top image: Forgotton Shoggoth by *henning at Deviant Art.
Murphy told us that the movie is "supposed to shoot in June" and Tom Cruise is set to star in it, as recently rumored. And he added that the script is very close to the H.P. Lovecraft source material.
In an email to us, Murphy wrote:
Mountains is very close to the Lovecraft
supposed to shoot in June yes with TC
Update: Another inside source tells us that neither the start date, nor Cruise starring in the film, are really set in stone just yet. There's no official start date at the moment, and Cruise still isn't confirmed as the film's star.
Update #2: Murphy has retracted his statements to us. He tells Hitfix that the start date is not set at all, and the project is still just in development.
Update #3: It sounds like del Toro may be making a different film instead. See this post for details.