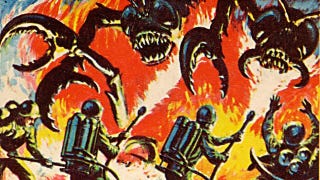 If aliens ever appeared in our skies, you'd think the human race would be screwed. After all, any species that's smart enough to travel faster than light would have technology beyond our imagining. But somehow, alien invaders always lose.
At least, in science fiction stories, they almost always fail. (With a few notable exceptions, like the brain parasites of Stephenie Meyer's The Host.) Why are alien invaders such pushovers? Here are 10 reasons that science fiction teaches us for the futility of extraterrestrial imperialism.
Top image: Vintage Mars Attacks gum card, via K-Type on Flickr.
It's weird — as recently as mid-2008, we were lamenting the fact that alien invasion stories were dead as a genre. Now, aliens are invading all over the place once again, and it's important to be prepared. So how are the majority of alien invasions thwarted? Find out below. Warning: Tons of spoilers for old stories!