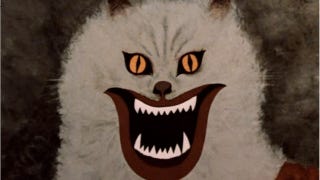 In Nobuhiko Obayashi's 1977 horror classic, House (a.k.a. Hausu), a band of plucky vacationing schoolgirls make the fatal mistake of spending summer vacation at a very hungry haunted house.
After languishing in cult obscurity for decades, this psychedelic ghost romp got a much deserved wide release on DVD late last year, thereby delivering Obayashi's ghostly lunacy to a wider audience. Not only is Hausu one of the funniest, balls-craziest horror flicks you'll ever watch, it's a solid satire of the horror genre to boot.
For those of you who've never had the pleasure of watching experiencing Hausu, here's the quick description. Imagine if Sam Raimi and Terry Gilliam teamed up to direct a 1970s condom ad. But instead of filming the commercial, Raimi and Gilliam perform their ad live in your home with shadow puppets while amyl nitrate is slowly pumped into your home's ventilation ducts. The ad has no dialogue, just the Scooby Doo theme sped up backwards on 45 RPM. At the end of the commercial, the ghost of Dario Argento materializes and vomits five pounds of Jolly Ranchers all over your lap. You suddenly realize that Dario Argento is alive in real life, and then a Good Humor truck smashes through your living room wall. And explodes.
That's the short description of what House is.
But for real, House's merits go beyond the acid trip death scenes you may have witnessed on YouTube. (You can skedaddle here and watch it; but be forewarned that it's one of the film's finest sequences.) Obayashi previously worked as a commercial director, and much of House has the ambiance of a canned coffee ad. And in many ways, House is the ultimate commodification of the grindhouse horror movie.