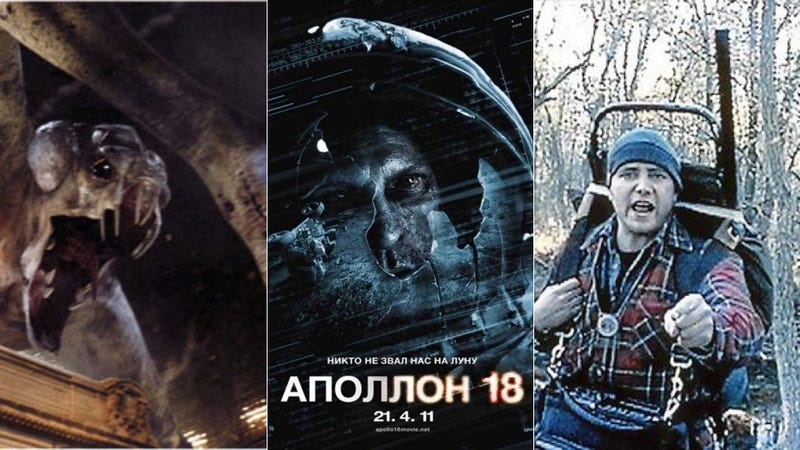 A few days ago mega-producer and Dimension Films head Bob Weinstein claimed that the much-buzzed-about lunar "found footage" movie Apollo 18 film was 100% real. Is he crazy? Or does he just think we'll believe anything?
Either way, we're tired of being lied to by Hollywood.
In an interview with Entertainment Weekly Weinstein was discussing the success of the newly released trailer for Apollo 18, a film that claims to be made of found footage from a lost lunar mission. Then he came out with this whopper about the movie's authenticity:
People intrinsically know there are secrets being held from us. Look at WikiLeaks: There are secrets that are really true to the world. It's not bogus. We didn't shoot anything, we found it. Found baby!
Mind you this wasn't something he told a crowd or fans at a convention — this statement was released to the press, as actual fact. Does anyone even believe this stuff any more? Enough is enough, it's time to retire the "It's real, we swear!" school of movie campaigning. This marketing practice is old and tired, and we're not willing play the patsy anymore.
If you're unfamiliar with Apollo 18, it's a film about a lost space mission to the moon. The clever tagline for the film — "There's a reason why we never went back to the Moon" — says it all. Something horrible happened on the Moon. But sadly, they couldn't just let it stop there. The recent statements to the press seem to push forward the viral campaign's attempt to give some sort of credibility to the fictional film. Hey, we love a fun viral promotion as much as the next Dark Knight fan, but we don't need to be jerked around, about a subject that is clearly so fake.
Then there's the matter of backlash. Let us not forget the disaster that was The Fourth Kind. After force feeding the audience "facts" about the high rates of missing persons in Nome, Alaska (glossing over police reports that attributed these disappearances to excessive alcohol consumption and deadly weather) the film then insisted that aliens MUST be sucking up all of Alaska's inhabitants. How can you deny it? People are missing, it must be aliens. To back up these claims, The Fourth Kind attacked the audience with laughably distorted footage of real alien possession and an owl — you know, facts.