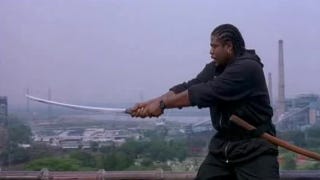 Jim Jarmusch's 1999 thriller Ghost Dog: Way of the Samurai is a stunning meditation on race, death, cultural cross-pollination, and Forest Whitaker killing gangsters. But what's most intriguing about Ghost Dog is how Jarmusch transforms the film's flesh-and-blood samurai into a nigh mythical wraith. Here's why this film has become a must-see classic in just twelve short years.
First off, a quick primer on the film (decade-old spoilers). Forest Whitaker stars as Ghost Dog, a bushido-obsessed, Hagakure-quoting hitman who works for Louie (John Tormey), a hapless and perpetually harried small-time mafioso. After one of Ghost Dog's hits goes awry, Louie's bosses demand that he take Ghost Dog out. This isn't easy, as A.) Ghost Dog only communicates with Louie via pigeon; and B.) is an abattoir on two legs.
At first blush, Ghost Dog lacks the qualities of speculative cinema. It draws on martial arts themes, but there's no wirework, forbidden arts, or giant flying peaches. It's an understated film; it looks like a Victorian period drama compared to other RZA-scored productions like Kill Bill and Afro Samurai. Barring Ghost Dog's anachronistic ways, his preternatural allergy to dying, and one particularly outlandish assassination, the movie guns for verisimilitude.