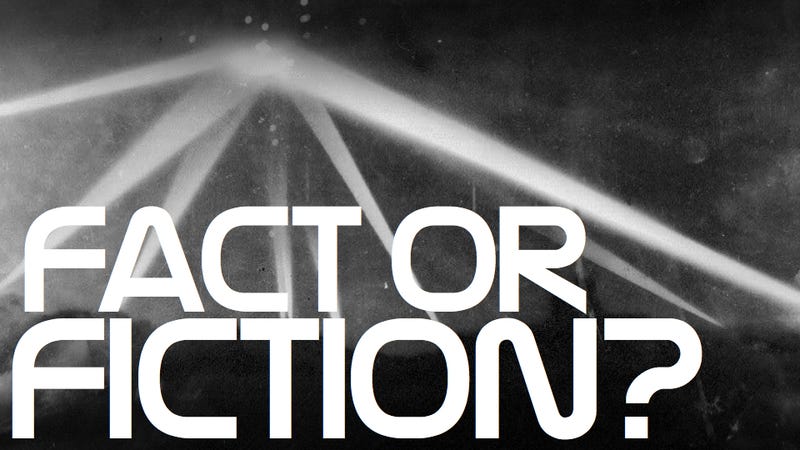 In next month's Battle: Los Angeles, invading aliens go to war with the American military. It's science fiction...except that a panel of UFO experts claims it's factual. At a recent Sony Pictures press conference, the studio emphasized the movie's "based in fact" premise by giving us a chance to chat with a pair of ufologists and two retired military officers who both claim to have had encounters with UFOs during their service.
UFO Magazine publisher and UFO Hunters star William J. Birnes began by matter-of-factly announcing that UFOs are real and that they are a "matter of historical record", proclaiming it a scientific fact. (It should be noted right now that there were no skeptics on the panel.)
The reason this panel had been assembled at all is because Battle: Los Angeles is, very loosely, based on historical events. There was a real-life Battle of Los Angeles during World War II that happened exactly sixty-nine years ago last night, and rumors still persist that it involved a UFO. On the night of February 24, 1942 - less than three months since Pearl Harbor and at the height of American fears of a Japanese invasion of the west coast - reports came in that an unknown aircraft was headed towards Los Angeles County from the Pacific.
For an hour, Los Angeles was in complete chaos. A total blackout was called, thousands of air raid wardens were mobilized, and the 37th Coast Artillery Brigade began firing nearly 1,500 shells at the supposed target. The next day, Secretary of the Navy Frank Knox admitted the entire incident had been a false alarm and that, in all likelihood, it was just a product of the tremendous anxiety felt by those stationed on the west coast that the Japanese would soon invade.
Of course, if it was mass hysteria, there was at least some reason for it. Beyond the attack on Pearl Harbor, the Japanese had undertaken some limited attacks on the west coast. In fact, on February 23, just one day before, a Japanese submarine had shelled the Ellwood Oil Field near Santa Barbara. It was a pretty piffling attack, causing at most $1000 worth of damage to a pumphouse and a catwalk.
The response to this attack was overblown on both sides - Japanese submarine commander Nishino Kozo radioed Tokyo that Santa Barbara was now in flames, and the American public was now convinced a full-scale Japanese invasion could happen at any moment.
In that sort of atmosphere, the mass hysteria that apparently gripped Los Angeles the next night is pretty understandable, and indeed a 1983 investigation of the Office of Air Force History concluded that, in all likelihood, it was just a lost weather balloon that the already panicked military mistook for something more sinister. And it's hardly a unique phenomenon - just look at last November, in which Los Angeles (and the national media) panicked over a supposed mystery missile launch that was, in fact, nothing.
Still, some ufologists, as is their wont, insist this actually was an unknown aircraft, and it quite possibly was of extraterrestrial origin. Birnes suggested this was the opening contact between UFOs and the US military, and that UFOs did next make an attempt to contact the White House with their 1952 appearance over Washington DC. But this incident was largely left aside in favor of the stories of the two military officers who had joined him on the panel.
First, there was retired Captain Robert Salas, who had been one of the seven military officers to hold a press conference last year in which they proclaimed their belief that UFOs had visited several US nuclear weapons bases.