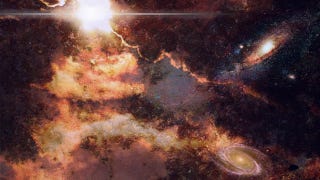 Dark matter is our best explanation for why galaxies stay together when they don't seem massive enough to keep up gravitational attraction. But now a largely-dismissed alternative theory has some actual proof backing it up. This could get complicated.
Image by Marius Krivicius/Shutterstock
Dark matter, which calls for the existence of massive particles (or some other form of matter) that are not detectable using conventional means but do have gravitational effects, is generally accepted by physicists, even if its apparent inelegance is a turn-off to some educated laypeople. (I won't rehash the arguments for the existence of dark matter, because Dr. Dave Goldberg already did it way better than I ever could.) Still, there have been attempts to advance alternative theories to the dark matter model, and the best-known is probably Modified Newtonian Dynamics, or MOND.