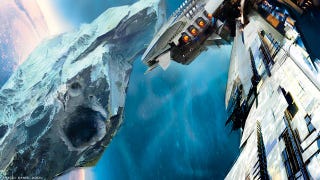 From the new China Mieville to the latest Cherie Priest, from quantum burglars to reworked fairy tales, here's what you'll be reading this spring. We've picked out the most exciting new books from the next few months' science fiction/fantasy releases.
In case you missed them, the year's already seen some really great releases, including Jo Walton's fantastical coming of age novel Among Others and Cowboy Angels, Paul McAuley's tale of CIA agents messing around with alternative Americas. But here's what to look for at the bookstore between now and June.
Leviathan Wakes wallpaper via Orbit Books.
February
Midnight Riot, Ben Aaronovitch (Del Rey)
Doctor Who alum Aaronovitch takes on urban fantasy. Peter Grant wants to be a proper detective inspector in London's police force. He's suddenly and rather unexpected helped along towards his goal when it's discovered he can communicate with the recently dead. Detective Chief Inspector and wizard Thomas Nightingale takes notice and takes Grant under his wing to help deal with London's paranormal crises.