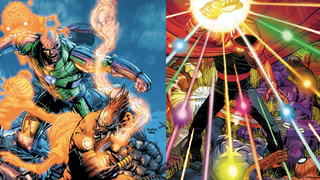 Comic book Wednesday always delivers the most prescient fashions. Who wouldn't want to sport a dapper Orange Lantern (your friends will be so envious!) or a gem-encrusted Infinity Gauntlet (that Soul Gem is 24 carat!). Let this week's comic haul teach you that superheroes wear more than spandex.
First Issues
If burly, super-manly dudes are on your pull list, there are the inaugural issues of the King Conan: Scarlet Citadel (Dark Horse) miniseries and Nick Spencer's War Machine-centric ongoing series, Iron Man 2.0 (Marvel). And if no-bones-about-it torture porn is in your wheelhouse, there's a new Crossed miniseries — Crossed: Psychopath (Avatar) — in which people with facial blemishes will undoubtedly be cussing and misbehaving and tossing all stripes of human viscera at each other.
For supernatural fare, there's The Mission (Image) from Red screenwriters Jon and Erich Hoeber (plot = average Joe is suddenly given a quest by the archangel Gabriel) and True Blood: Tainted Love (IDW), which is co-authored by Marc Andreyko and Michael McMillian (the show's Reverend Steve Newlin).
Other Releases
Paul Cornell pits former Orange Lantern Lex Luthor against the giddy and goofy Larfleeze in Action Comics (DC), and Brian Michael Bendis brings back the Infinity Gauntlet in Avengers (Marvel). The final issue of Fantastic Four (Marvel) hits the stands before their relaunch as the Future Foundation.