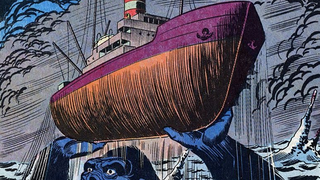 Bigfoot, Nessie, Ogopogo, the atmospheric jellyfish — (most of) these cryptids are household names. But did you know that there's a subfield of cryptozoology that deals with massive hominids, sequestered on our planet's hidden places? Let's take a look at some curious cases of Brobdingnagians amongst us.
Living dinosaurs and skunk apes have leapfrogged giants on the cryptid taxonomy, but this wasn't always the case. In the 19th century, facsimiles of giants and petrified humans captured the public imagination at sideshows. The most famous of these fakes was the Cardiff Giant, a 10-foot-long, 3,000 pound block of gypsum that was sculpted to look like a fossilized man and was exhibited in upstate New York in late 1869. The Cardiff Giant was the brainchild of tobacconist George Hull, who was inspired by the Nephilim of the Book of Genesis to create his oversized hoax.
Hull staged an excavation and subsequently profited off his giant...until P.T. Barnum covertly built his own replica of the Cardiff giant and displayed his fake (of Hull's fake) as the real deal. Hull attempted to sue Barnum, but in order to do so, he would have to swear on the veracity of his own giant. Hull instead revealed to press that his giant was made of 100% Balonium. Similar "petrified" specimens were unearthed at the tail end of the 1800s, such as the Solid Muldoon, another petrified man, which too was built by Hull.
As the world's various mythologies can attest, giants had a following way before the age of traveling hucksters. In a fascinating article in Archaeology, Mark Rose recounts how an interest in cryptids went hand-in-hand with nascent American life. After all, this was a continent where Southern farmers dug up Basilosaurus fossils to build their homes: