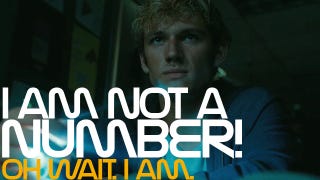 It's no accident that the hero of I Am Number Four has a number instead of a name. He's a cipher. One of the most generic heroes ever created, he has absolutely nothing to distinguish him from every other rebellious/angsty teenage hero ever. And he's the perfect hero for this "alien in high school" story, which is a die-cast plastic creation, almost devoid of anything memorable.
Spoilers ahead...
It's actually kind of hard to review a movie like I Am Number Four, because you want to look at it on its own terms. And it's not fair to expect intelligence, character development or even an original plot from this sort of film. Number Four is meant to be dumb, throwaway escapism — and if you expect anything more from it, then you, not the movie, are idiotic.
And yet, even by the standards of dumb movies, I Am Number Four is pretty wretched. In a nutshell, it's the unholy fusion of an especially dull episode of Dawson's Creek with one of the middle Harry Potter books. I will say that it's a serviceable film, that never goes off the rails. And there are a couple of great supporting characters.
But it's hard to ignore the cynicism that pervades every fiber of this movie. It's an adaptation of the first book from James Frey's factory farm, in which authors get paid a whopping $500 to churn out potboilers based on formulaic storylines. (A lot of the coverage of the James Frey experiment has focused on how unfair this is to authors, but really it's more unfair to readers, who get bombarded with shitty books.) The book got optioned before it was even finished, and Michael Bay rushed it into production, with this year's teen idol (Alex Pettyfer) and a Glee star (Dianna Agron) in the lead roles.