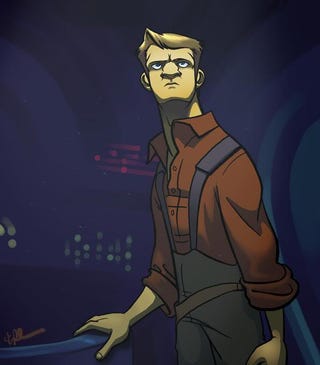 Miss the world's greatest space Western the first time it aired? Don't worry — you're getting a second chance to watch the entire series, on television! Tell your friends.
The Science Channel has acquired the rights to Firefly and will air the series plus a few new extras. Let's hope these include the footage from the Serenity panel at SDCC (that was some emotional stuff). They definitely include interstitial segments featuring physicist Michio Kaku, discussing the science of Firefly. So are Reavers possible?
Entertainment Weekly spoke to Mal Reynolds (Nathan Fillion) after the announcement. They asked if he'd ever reprise his role as Mal, naturally he said yes and added this little tidbit: "If I got $300 million from the California Lottery, the first thing I would do is buy the rights to Firefly, make it own my own, and distribute it on the Internet."

Firefly will premiere on the Science Channel on March 6th at 8 PM (in the original intended order — and with an HD upgrade). Firefly will then air every Sunday.