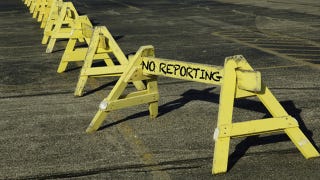 What's blocking your access to accurate scientific information? Often, it's the representatives of research institutions themselves. Today on Embargo Watch, science journalism watchdog Ivan Oransky reports on just one example of how universities try to prevent reporters from getting information about scientific studies - and we're not talking about studies of nukes or neurotoxins, or even unpublished work not yet fit for public consumption. Nope - this was an archaeological finding published this week, which science journalist and io9 pal Ed Yong was trying to write about. Oransky reports:
Ed Yong just wanted to look at the data.

This past weekend, he found an intriguing embargoed press release about mummy toes and prosthetics [covered on io9 here], and realized that the "study" to which the release referred was actually just a Perspective in The Lancet. When he emailed the press officer who'd written the release, he learned that the actual data weren't yet published, but that the Perspective was "peer reviewed using the data."

Readers of this blog are probably familiar with Yong, science blogger extraordinaire. He writes the extremely popular - and award-winning, for good reason - Not Exactly Rocket Science blog at Discover.

So it won't be a surprise to learn that Yong wanted more information. He understood that there wasn't a typical peer-reviewed study published yet, but he wanted to at least speak with the author, whose contact information didn't seem to be anywhere on the web. So he asked the press officer for those details.

That's where the ridiculousness started, as Yong relates on his Posterous. The PIO [public information officer], the University of Manchester's Aeron Haworth, responded: "I think you have all you need for a blog."

That seemed a bit unusual. Yong - who was too polite to name the PIO, which I just did - replied: "Interesting. Do you often tell journalists when you think they've had enough material for their reporting?"