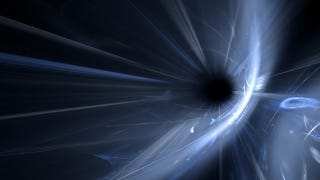 In a very special,"Ask a Physicist," we'll hear the true story of doomed romance of particles and anti-particles as they attempt to defy the undeniable attraction of black holes. It's a story of betrayal, quantum fluctuations, and eventual evaporation.
Image by Markus Gann/Shutterstock
Since this is io9, you probably know a thing or two about black holes. I like to imagine an army of you during "Star Trek" yelling at the screen in unison about the ridiculousness of red matter. So it should come as no surprise that I get some fairly sophisticated questions about black holes really work. This week's question comes to us from Jason Honan who asks:
Why does a black hole lose mass when a virtual particle falls into it?
The universe, even the most boring parts of the universe, is constantly awash in activity. Particles and anti-particles are continuously being created and annihilated, and for the most part, we never even notice. But near black holes, things are very different. Before we delve into the quantum-ness of it all, it might be useful to have a little refresher in black hole physics.