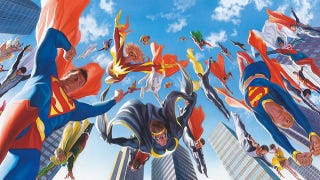 It never fails: The cooler a hero is, the likelier he or she is to start tossing out references that only mean something to a handful of fans. The longer an epic story goes on, the more self-referential it gets.
Why does this happen? And is there just a natural law that stories have to get more inside-baseball the longer they continue for? It's a form of narrative decay. Here are some theories about why and how it happens.
Think of it as a spectrum. There are two extremes of serialized heroic narratives: expansive and self-referential. At one end, you've got a set of stories in which the hero is constantly meeting new characters and discovering new stuff, and everything is freshly created for just that story. At the other end, you've got heroes who constantly re-meet old villains, friends and other supporting cast members. The self-referential end of the spectrum also includes in-jokes, fanservice, and obsessive references back to old continuity points.
Most epics fall somewhere in between the two extremes — very few ongoing stories have either no reference to the past, or nothing but references to the past. Most of the time, a long-running storyline will sit somewhere in the middle — still introducing new stuff, still expanding the universe, but also harkening back to earlier stories. A good example of this is the most recent few seasons of Doctor Who, which have reliably brought back old villains and also given nods to 40-year-old stories, but also kept introducing new stuff.
It definitely seems to be true that most ongoing or serialized epics start out more expansive, and then become more self-referential over time. Most genre television shows start out with more "monster of the week" episodes, and then tilt the balance towards "arc" episodes over time. But also, a character in any medium will start to reference older stories and re-meet older characters as the adventures go on, and on, and on.
Narratives decay as they get older — or maybe it's more accurate to say that they ossify. Structure replaces energy. All of the inventiveness and newness that animates a new story get replaced by walls and props and girders. This can be a beautiful thing, if the structures are really elegant or moving — but there's no substitute for having a story that pops with newness and keeps introducing new stuff.
It also seems to be true that whenever an epic hero makes the jump from one medium to another, the level of fan-service and other sorts of self-reference goes up massively. Especially if a comic-book character gets a movie, you're bound to see lots of fan-pleasing nods and easter-eggs, and sites like this one will point them out for you if you miss them. But this also happens a fair bit with comics-to-television or television-to-movie translations. Partly, this may be because fans of the original stories are entrusted with bringing them to a new audience — but also, it's a way of bribing the fans of the character to like his or her new incarnation. And also, you can't discount the fact that someone making a movie of a comics or television character will be grasping at straws somewhat, to try and make sure they capture what made the character so successful originally.
The different types of self-reference
So what makes heroes get more self-referential as they get older? The most obvious reason is that people grow up being fans of a character, and then they finally get a chance to create new adventures for that character — so they pay tribute to the stuff they loved as a kid. But also, there's the obvious fact that the longer a hero has been around, the more old stuff there is to refer back to, and the more layers of concepts get placed on top of the original premise. And also, the longer a hero hangs around, the likelier he/she is to have a vocal fan base, who really want to see references to all the little bits and pieces they used to love.
The most obvious example of a story being self-referential is fan-service — can you spot the Tribble in J.J. Abrams' Star Trek? Will you keep your eyes peeled for G'Nort in Green Lantern? — but really any narrative that refers back to the past becomes self-referential. And you can even be self-referential without referencing the past at all — any time a heroic story refers back to its premise, it's self-referential by definition.