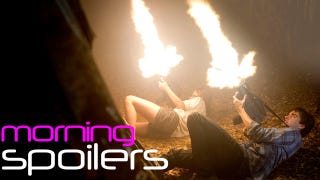 An insane, probably false new plot synopsis suggests the mysterious J.J. Abrams movie Super 8 might be nothing like what we'd expected. We explain why casting decisions for the Clash of the Titans might affect the Superman reboot. The producer of Abraham Lincoln: Vampire Hunter talks casting and action sequences for our suddenly kickass 16th president. Torchwood: Miracle Day might have an unexpected guest star.
Spoilers from this point forward!
---
Super 8
Want to hear a highly dubious, transparently ludicrous, and almost certainly false plot summary of Super 8? Well, here we go, with this heavily sic'ed IMDB forum post that's supposedly by the son of one of the movie's set designers:
This movie is about a scientific research gone wrong. 8 college students sign up for experimental research. The research changes there DNA allowing them to accumulate powers like mind control, strength, pyrokenisis, telepathic abilities and so on. The military finds out about the experimental program and pays a large sum of money to the scientist for the rights to continue the research and weaponize them. The scientist had stopped the research because they knew what it could be used for.

But money corrupted them. The only way to contain the students who's powers were still increasing from the experiments was to cool there bodies to a point low enough to keep them alive but to stop brain function. They sent them by train because it would be a fast way of travel while insuring that they would be contained. Unfortunately something went wrong with the train and it crashed. The freezer they were in stopped functioning allowing them to escape…They hide out and attempt to learn how to control there powers. What they don't yet know is that the military has created super soldiers from the same research they purchased. There mission is to hunt down the college students codenamed as "Super 8″ and kill them before the experiment goes public.
So yeah...this fairly obviously is not what the movie is about. I mean, J.J. Abrams isn't above some pretty fiendish misdirects, and I suppose it's conceivable the title refers to something other than just old Super 8 cameras, but come on - this plot has nothing to do with the Spielberg homage Abrams has repeatedly said this movie is intended to be, and pretty much everybody in the announced cast is either under 16 or well into their 40s. So yeah, this plot summary isn't real - although the theme "But money corrupted them" is pretty universal, I must admit. [Aeromental]
---
War of the Titans
Barney's Version actress Rosamund Pike has reportedly been cast as Andromeda, replacing original actress Alexa Davalos. Now, in and of itself, that isn't that interesting, but this also might have some tangential implications for the...
---
Superman Reboot
...because Pike was one of three actresses rumored to be in contention for the main female lead, which is supposedly the Kryptonian psychopath Ursa. Assuming for the moment that Pike really was in contention for that role, the timing of this pretty much takes Pike out of the running for Ursa, and Diane Kruger has already denied she's up for the role. That leaves She's Out of My League actress Alice Eve as the only real possibility from the original three names, so it's possible she's now the main contender for the role. Or this is just a lot of speculation, and we're just grasping at straws. I think the latter is the more likely possibility, although since we're already being kinda ridiculous, let's just be completely ludicrous and assume this all means Lindsay Lohan has the part sewn up. [Deadline]