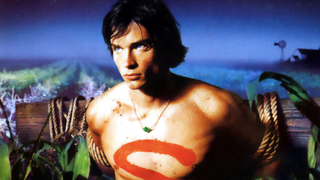 Smallville is a show of beguiling contradictions. It's about Clark Kent, but no one refers to him as "Superman." It's steeped in DC comics arcana, but began its existence as a WB teen drama. It's been on the air longer than Seinfeld, but almost no one owns up to watching it. Let's delve into those wacky idiosyncrasies of this once unkillable superhero drama, whose series finale air date was announced today.
Last October, I was at the New York Comic Con watching Geoff Johns —DC Comics' Chief Creative Officer, Green Lantern franchise reinvigorator, and one of DC's best-selling authors — address an eager crowd of several hundred Green Lantern loyalists. In informing fans about the publisher's plans for the Flash series and Green Lantern cartoon, Johns told fans that he would be penning an episode of Smallville about Booster Gold, DC's lovable (albeit perennial loser) superhero.
This news was greeted with an enthusiastic applause and scattered whoop, but what happened next was remarkable. In an off-the cuff comment, Johns said something like, "You really ought to check out Smallville — they're doing some cool stuff for its tenth and final season."
I'm paraphrasing Johns, but let's unpackage that notion. Johns was attempting to convince 300 or so ardent members of DC Nation to watch a show about Superman. We live in an era in which TV and film studios are strip-mining the lores of all sorts of wackadoo and obscure comic characters (just look at the roster for Matthew Vaughan's $120 million X-Men First Class). The idea that this well-regarded creator was modestly suggesting to devoted DC fans to watch a show about the Man of Steel (in its milestone-packed final season, no less) was unthinkable. It was like I was attending a convention on Bizarro Planet.