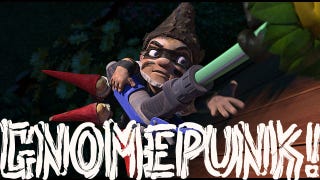 Need to amuse the kiddies while you recover from your Friday-night excesses? Gnomeo and Juliet is a remarkably pleasant film to watch with a hangover, featuring tons of Shakespearean in-jokes, garden gnome slapstick and Elton John cameos. It's the sort of film that's funny when you're barely awake, and it won't make your headache any worse, even though it's in 3D.
Read on for spoilers and details — plus a Gnomepunk Manifesto.
There's almost no need to narrate the plot of Gnomeo and Juliet, since you're probably familiar with the source material. But here goes anyway — there are two old people living next door to each other, Mr. Capulet and Miss Montague. And they hate each other — and so do the gnomes in their respective gardens. Whenever the humans are gone, the garden gnomes come to life and take their owners' feud to an insane new level, mostly involving destructive use of lawn-mowers and spray-paint. Until — wait for it — two gnomes from the opposing gardens fall in love with each other.
(Basically, it's a fantasy along the lines of the Toy Story movies — where inanimate objects secretly come to life when nobody's looking, and have an existence that's way richer than that of the dumb humans around them.)
I was as hung over as the lowest head on a trophy wall when I watched this film, and I had non-stop giggles. The mix of stupidity, cleverness, stupid cleverness, cuteness and celebrity cameos was exactly the right thing for my alcohol-shriveled brain. (The critics' screening was at 10 AM on a Saturday morning, so this was actually good test conditions.)
I'm not sure that the kids watching the film got much out of it — do today's kids even know what garden gnomes are? — but who cares about them?
As we've said before, there's really two types of non-Pixar animated films: Ones which are decent but not in Pixar's league (like Despicable Me) and ones which are just wretched and cheap. Gnomeo isn't as good as Despicable, but it definitely belongs to the same category.