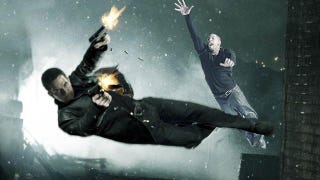 In space, nobody can hear you freestyle. But that hasn't stopped some of hip-hop's greatest legends from appearing in some classic science fiction and fantasy movies. From battling killer sharks to fighting off ghosts on Mars, some of our favorite rappers have also become some of our favorite SF heroes.
Check out our definitive list of science fiction and fantasy's greatest rappers-turned-actors below.
Honorable mentions: Xzibit, who was in X-Files: I Want To Believe, and Busta Rhymes, who was in Halloween: Resurrection.
10) Ice Cube (Ghosts of Mars)
Okay, so one of these days I'm really going to write my essay about how Ice Cube's movie Friday is really an adaptation of Heinlein's novel of the same name. But even leaving that aside, his role in Ghosts of Mars is absolutely fantastic. It's a lesbian-dominated future Mars, but Ice Cube is still the same guy, and he has to team up with Natasha Henstridge to battle the spirits on Mars. Plus he gets to shout, "Come on, you mindless motherfuckas!" It's awesome stuff.
9) Snoop Dogg (Bones)
Bones is actually a massively underrated horror film that blends an homage to blaxploitation with themes of gentrification and drug addiction. And Snoop Dogg is amazingly watchable, and actually turns in a pretty great performance, as Jimmy Bones, the kingpin who tried to keep his neighborhood clean, only to be betrayed and murdered — and now he's back for revenge.
8) Will i Am (X-Men Origins: Wolverine)
Thanks to SupaChupacabra for suggesting this one. Will i Am is totally indispensible in X-Men Origins: Wolverine, as John Wraith, who rocks a cowboy hat and teleports in and out of crazy mutant mayhem. Just watch this awesome featurette, where John Wraith introduces himself. Will i Am also appeared in Joan of Arcadia, and served as a Jedi election commentator via hologram during election 2008.