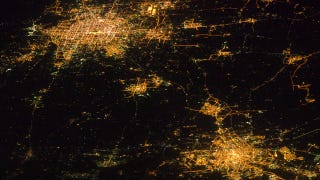 Miss out on some of the excitement? Here are the best io9 stories of the day!
Photo of Beijing taken from the International Space Station, via NASA.
Supernatural is back in the saddle with virgins and gold
From the terrific opening montage to the solid pacing and great one-liners, last night's Supernatural hit it out of the park. "Like a Virgin" was our first taste of the series after a long winter break, and we were rewarded for our patience with an intriguing new big bad, plus the best monsters ever out of a whole season of monstery weirdness. And we got our first glimpse of Sam with his soul back. Spoilers ahead!