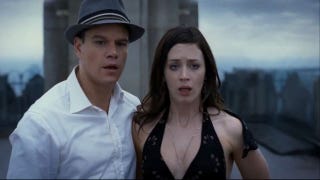 "That Philip K. Dick guy is pretty good. But what would really make his work awesome is if it was turned into a romantic dramedy."
If you've ever said those words, or something along those lines, then you — and only you — are the target audience for The Adjustment Bureau, the new movie opening today.
Spoilers below...
The idea of merging Dickian storytelling with romantic comedy is counterintuitive, to say the least. Many of Dick's best stories have to do with melting down the status quo, or seeing the lies behind it. Without making too much of a broad generalization, many of Dick's protagonists end up being permanently left out of the received version of reality, either because they can no longer go along with the compulsory falsehoods, or because they've damaged the facade's hidden supports in some meaningful way.
Romantic comedy/drama, meanwhile, is about returning to normality. Almost every romance features a stretch halfway through where the two main characters are brought together and almost achieve oneness, only to be driven apart by some crisis which must be resolved — so in a sense, the consummation of the romantic relationship is also the restoration of order, and a final confirmation that the social order is right.
Add to that the fact that Dick's work, in itself, is often a bit of a genre mash-up. Dick's writing combines extreme pulpiness (including things like what Thomas Disch called the "downhill racer" style of plot resolution) with the focussed weirdness of the New Wave, and a hefty dose of literary aspirations. Dick often seemed to be trying to steer between more literary and more pulpy works — at one point in the early 1960s, he thought he could bridge "the gap between the experimental mainstream novel and science fiction" successfully — and a lot of his work sort of blends these disparate styles, which is part of what makes it so fascinating.