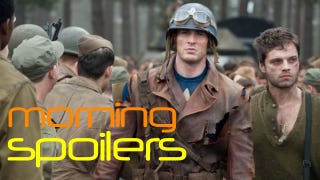 The Dark Knight Rises is going to be shot in as much IMAX as humanly possible. Twilight's Kristen Stewart is out of the running for Lois Lane — assuming she was ever in contention to begin with. Learn what Bucky Barnes and Howard Stark bring to Captain America. Hugh Jackman is getting ridiculously bulked up for The Wolverine. Javier Bardem discusses his potential James Bond villain role.
Spoilers from here on out!
The Dark Knight Rises
Christopher Nolan's longtime director of photography Wally Pfister explains that the script for the third movie links back to the first two Batman movies in what sounds like some interesting ways:
Plain and simple - he's done it. It's a phenomenal script. He's still in the process of cutting it back because it's a very long script right now, but it's really phenomenal. And he actually had me go back and wanted me to watch, in IMAX, Batman Begins and The Dark Knight again. When I watched those I had read the script for The Dark Knight Rises and was like, 'Dude, it is a perfect trilogy.' I think that was his intent, to work off those two pictures - and they are very different pictures. And it's funny, we all had different opinions about which picture we like better.
He also says they're going to shoot as much of the film in IMAX as is humanly possible:
Our goal is to shoot as much in IMAX as we can. We're going to put in on the screen, and put it on the screen big. And I really encourage everyone to see it in IMAX if they can, because we're really going for it this time. In terms of the action, we are all scratching our heads right now trying to figure out how we're going to do it; how we're going to do it in the amount of time we're going to do it in. The opening scene of the movie will blow your mind.
Superman Reboot
Anyone who was worried that Twilight's Kristen Stewart was the supposed frontrunner for Lois Lane, you can breathe easy now - we've got two sets of rumors, but they both end with Stewart definitely not playing Lois Lane. One rumor is that she did meet with director Zack Snyder and his producer wife Deborah, but Stewart ultimately passed on the role to focus on smaller movies. Now, we shouldn't necessarily buy into all the details of this rumor — for instance, the original report claims Snyder was hurt by Stewart's rejection, which just seems kinda silly — but the gist of it is hardly impossible. The other story comes from her PR rep, who says she was never in contention for the part to begin with. Either way, if Kristen Stewart was ever in contention in Lois Lane, she is almost certainly out of the running now. Well, probably. In any event, add two more names to the rumor pile: Olivia Wilde and Mila Kunis. In fact, one report indicates Wilde has already tested for the role, which might make her the new frontrunner. But, again, take all this with a grain of salt until we hear anything official. [The Daily News via Cinematical and People]
Captain America
We got our first look at Bucky Barnes yesterday, but now here's an even better shot courtesy of the LA Times, along with another look at the photos from Premiere magazine. Director Joe Johnston also explains how Bucky actor Sebastian Stan brought a little darkness to balance out the earnestness of Steve Rogers: