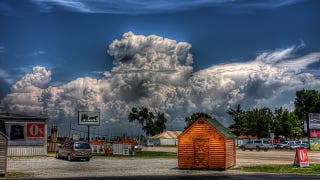 Are we at the dawn of a new Ice Age? Has someone discovered a long-forgotten Nazi weather-control weapon to use on us? Maybe. Here are some mutant weather stories that will make the American snowpocalypse seem like no big deal.
Image by Richard Cox.
Ice Ages Start and End So Suddenly "It's Like a Button Was Pressed," Say Scientists Dutch researchers drilling into the glaciers of Greenland have discovered that climate change occurs more rapidly than previously believed - indeed, the most recent ice age ended abruptly in just one year. Image via Godogo on Flickr.