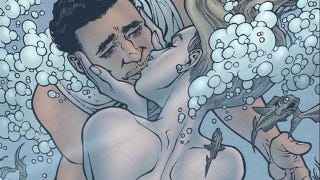 What's in store for us on television this fall? If the pilot scripts the networks have ordered are anything to go by, there'll be lots of zombies, fantasy police work, angels, and superheroes. Here's our complete run-down of the pilot scripts that each of the major networks is looking at for Fall 2011 at the moment.
Obligatory disclaimer: Most of these shows will never reach your screen. The ones which are just "in the pipeline" are apparently just in the script stage, and may or may not get an order to film an actual pilot. (On the other hand, a number of them probably will get a pilot order soon, it's still early.) And the ones which are already filming a pilot may not get any farther. If you don't believe me, do some searching on video sites for the unaired pilots for Global Frequency, Aquaman and Justice League, among many others.
Also, television being television, the more hideous a show sounds, the likelier it is to make it on the air — and to be a huge hit that stays on for the next seven years.
ABC
Actually filming a pilot:
Charlie's Angels. Like The CW's Nikita, this is barely science fiction, and we hesitate even to mention it. But these sorts of techno-spy-fi type shows often wind up revolving around unfeasibly advanced gadgets, not to mention McGuffins that are straight out of cyberpunk. Plus Smallville's Millar and Gough are in charge.
Hallelujah. Almost hesitate to mention this, but it could be supernatural. The town of Hallelujah, TN is being torn apart by forces of good and evil, until a mysterious stranger shows up to restore the residents' faith. A gospel choir serves as a sort of "Greek chorus" narrating the action.
Once Upon A Time. A young boy gets drawn into a town where it turns out that fairy tales may be real. We called it "Fables: the TV series," although it's not strictly an adaptation of Fables. From Edward Kitsis and Adam Horowitz, writers of Lost and Tron Legacy.
Poe We wrote about this recently. The famous horror/science fiction author is a detective, solving mysteries in 19th Century America.