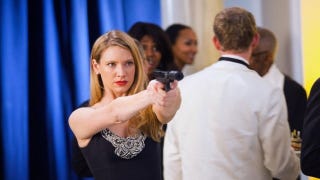 This week, Fringe goes glam. Also, is Chuck finally putting Timothy Dalton in his place? Find out tonight! Plus Mena Suvari is a supervillain on The Cape. Smallville and Supernatural are really back. And Titanic gets the sequel it deserves.
Today:
Scooby Doo: Mystery Inc. comes back from its hiatus at 7 PM on Cartoon Network, with "Mystery Solvers Club State Finals."
There's a new Chuck at 8 PM on NBC, and it looks like this one is the big deal everyone's been waiting for — with Casey still recuperating from his fall, Chuck decides to take on Volkoff by himself. And meanwhile, Sarah tries to extricate Chuck's mom from Volkoff's organization once and for all. Plus Chuck's niece may be arriving early.

Also at 8, there's a new Adventure Time with Finn and Jake on Cartoon Network. That's followed by a new Regular Show at 8:15.
The Cape is on NBC at 9 PM. The ARK Corporation is preparing to unveil a device that could transform Palm City forever — but this being The Cape, the young genius who invented the device decides to put on a costume and call herself "Dice." Yes, Dice. No, it's not an Andrew Dice Clay tribute — we think. Dice (Mena Suvari) wants to kill Chess in revenge for Chess' role in her father's death. So the Cape has to defend Chess from Dice, so the Cape's own bid for justice isn't thwarted. How can this not be excellent? There are some pretty great pics of Suvari (and the circus gang) here. And here are four sneak peeks: