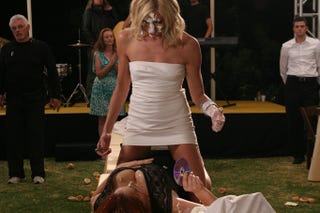 What television has to offer this week: the U.S. debut of time-traveling soap opera Being Erica. The return of Supernatural, Archer and Smallville. Tiffany and Debbie Gibson have a pie-fight, and still somehow cope with a Mega-Python and a Gatoroid.
Today:
Chuck marches forward, with "Chuck Vs. The Gobbler" at 8 PM on NBC. Here's what to expect:
Sarah (Yvonne Strahovski) takes dangerous measures to help Mary Bartowski (guest star Linda Hamilton) bring down Alexei Volkoff (Timothy Dalton), as Chuck (Zachary Levi) worries that she may be getting in too deep. Sarah, though, must enlist the help of Chuck, Morgan (Joshua Gomez) and Casey (Adam Baldwin) to complete her undercover mission. Meanwhile, Ellie (Sarah Lancaster) and Awesome (Ryan McPartlin) are at odds over what to name the baby.
Meanwhile, also at 8 PM, Cartoon Network is hitting you with another hour of insane cartoons, including Adventure Time with Finn & Jake, Regular Show and Robotomy.
And if that's not enough, then there's also a new episode of the frequently sciencey House on Fox at 8 PM.
Then at 9 PM, you got a few choices. First of all, NBC is showing episode four of The Cape, called "Scales on a Train." Okay, seriously, don't you just have to watch the episode now? Just to seal the deal, here's the completely ridonkulous synopsis:
When "The Cape" (David Lyons) tips off Dominic Raoul — aka Scales (Vinnie Jones) — that Peter Fleming (James Frain) has been extorting money from him, Scales heads to a costume party on a train to confront Fleming. "The Cape" and Orwell (Summer Glau), also at the party, discover Max (Keith David) and the gang are going to heist the train, and Vince/The Cape is conflicted about what to do. Meanwhile, Dana (Jennifer Ferrin) and Trip (Ryan Wynott) must endure scrutiny and taunts while trying to deal with their loss.
The second choice at 9 PM is another episode of Syfy's remake of the British show Being Human, about a vampire, a werewolf and a ghost sharing an apartment. Here's an advance review of the episode, which sounds pretty much focused on Sam Witwer's Aidan — always a good thing.

And then the third choice for 9 PM — and I won't judge you at all if you choose this over The Cape and Being Human — is a National Geographic show called Ancient X-Files. I'm picturing prehistoric Mulder and Scully. This episode is called "Secrets of the Dark Arts," and it has to do with "A sacred golden box that may hold the Ten Commandments and the spirit of God." So it's X-Files meets Raiders. Okay.
Tuesday:
Barack Obama hates you — or why else would his State of the Union Address be pre-empting new episodes of No Ordinary Family and V? (Or maybe he loves you and is trying to protect you from watching any more V. Or maybe he's in league with Anna, because they're both lizard people, and he's trying to give Anna time to regroup. Make your own theories.)
If you don't feel like watching the SotU speech, your main alternative comes from PBS — at least some local PBS stations will be showing an hour of The Space Age: NASA's Story at 9 PM. This is a four-part documentary that originally aired on the BBC. Check your local listings.
Wednesday:
Syfy is showing episodes of Dead Like Me from 8 AM to 3 PM.
At 8 PM, most PBS stations have a new episode of a Nova spinoff called Nova ScienceNow, hosted by Neil DeGrasse Tyson. This week: "Can We Live Forever?".
Explore artificial organs, suspended animation, genes that impact aging, and lifelike avatars.
And then at 9 PM, there's regular old Nova, with the second installment in the "Making Stuff" miniseries, "Making Stuff Smaller."
Future technologies will depend on tiny stuff-from silicon chips to micro-robots that probe the human body.
And then at 11 PM, SOAPNet has the third season premiere of Being Erica, a Canadian show about a woman who can travel back in time to fix her mistakes. This show is being remade for American audiences, for a possible airing on ABC this fall — because god forbid, we should have to listen to Canadian accents! — so here's your chance to check out the original version, which I hear is pretty great.

Thursday:
Rejoice! The Vampire Diaries — aka our crack and yours — is back with "The Descent," at 8 PM on The CW. It's been away so long, I can barely remember which impossibly good looking man is shirtlessly moping after which semi-virginal teenage girl, but it barely matters. Oh yeah — the actually quite awesome British vampire woman got bitten by a werewolf, which sucks. Let's hope she gets cured. Here's the plot synopsis:
DOOM, GLOOM AND PERSONAL GROWTH - Stefan (Paul Wesley) has his own ideas about Elena's (Nina Dobrev) new plan for the future. While Damon (Ian Somerhalder) tries to get the truth out of Jules (guest star Michaela McManus), he asks Elena to keep an eye on Rose (guest star Lauren Cohan), a situation that turns unexpectedly dangerous. Caroline (Candice Accola) and Matt (Zach Roerig) try to be honest about their feelings for one another, and Tyler's (Michael Trevino) reaction to Caroline's generosity comes as a surprise to her. Damon struggles to hide his true feelings when a life-and-death crisis hits him harder than he expected.
Also at 8 PM, National Geographic has a new Naked Science, with the tantalizing title, "Dinomorphosis." Feathered dinosaurs! Here's a taste:

And on Nikita at 9 PM on The CW, things finally take a slightly more science fictional turn, as Alex gets a "kill chip" implanted in her head. We may have to check this one out!

And then at 10 PM, there's the second season premiere of superspy spoof Archer, on FX. We saw this episode, "Swiss Miss," way back in July at San Diego Comic Con, and our review is here. Among other things, we promised, "The situation quickly devolves into outrageous deaths, unspeakable sex, and chaos." Sounds good so far!