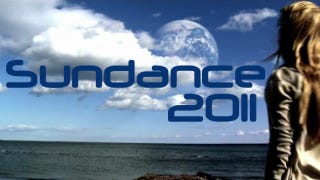 Sundance begins today! In past years, the festival brought us great science fiction films such as Splice and Moon. But what will be this year's smash indie success? Here's a list of likely suspects.
Another Earth
What do you do when "Another Earth" shows up in the sky, closer than the Moon? Mike Cahill's film follows the story of an odd couple and their response to this phenomenon.
Synopsis:
On the night of the discovery of a duplicate planet in the solar system, an ambitious young student and an accomplished composer cross paths in a tragic accident.
Clip:
Click to view
Trailer and clip: via [Hitfix]
Take Shelter
Directed by Jeff Nichols and starring our favorite under-the-radar actor Michael Shannon, Take Shelter sounds like it might be messing with the audience just a little as the main character (Shannon) doesn't know if he's losing his mind, or if it's the end of the world.
Synopsis:
A working-class husband and father questions whether his terrifying dreams of an apocalyptic storm signal something real to come or the onset of an inherited mental illness he's feared his whole life.
Codependent Lesbian Space Alien Seeks Same
We've already praised this film for having the "best movie title of the year," and we're anxious to see how the critics respond to this retro comedy in Park City.