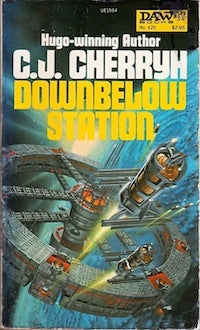 Take one highly vulnerable space station. Pack it with realistic characters. And then start a war. You'll end up with 1982's Hugo winner, Downbelow Station, by C.J. Cherryh — and a hell of a story.
It's always worth taking a second look: I read Downbelow Station a few years ago, and remember vaguely enjoying it and then forgetting almost entirely what it was about. So it was with some trepidation that I picked it up again. If it didn't make an impression the first time through, would the second be a drag?
No, it turned out, it would not. This book doesn't have any flashy-cool technology, or superhumans, or phenomena beyond the ken of mortal understanding. It is set a few centuries in the future, but the characters are for the most part people like today's. And though it takes its title from a space station, you could argue that the novel could be recast in a non-science-fiction format — set on Earth in the present day or past — without altering the basic story too terribly much.
Maybe that is why it didn't stick with me on the first read. Flashy-cool technology, etc., tends to be what initially lodges in my brain. But this time, scrutinizing the book a little more thoughtfully, I appreciated how smoothly, how economically it sets up interesting, plausible conflicts, and then stirs them together in a reasonably orderly fashion, while still conveying what an atrociously unreasonable mess life turns into during wartime.
This is the first book of Cherryh's Alliance-Union series; she started out simply intending to come up with the backstory for what would be her next novel, Merchanter's Luck, and ended up with another full-blown book. Here's a quick rundown of this future history:
Humans, in the form of the privately held Earth Company, started colonizing the galaxy by building huge space stations in a chain of star systems extending away from ours, out toward the Beyond. Ships, moving at near-light-speed, ran a long trade loop: They carried essential organic materials to the stations, and brought mined minerals back to Earth. Because those organic materials couldn't be grown well in space, Earth remained the controlling power in the Great Circle.
And then Pell's World was discovered, the first inhabitable planet besides Earth — and one that already hosted intelligent life, the primitive, monkey-like hisa. (Later, the humans on Pell station started calling the world "Downbelow," from the hisa's pidgin English.) Now that there was another, closer planet that could supply the stations in the Beyond with biostuffs, Earth's grip on trade began to weaken. It tried to hold on, the stations resisted — and a quiet conflict began.
More life-supporting planets were discovered, and then on one, Cyteen, the faster-than-light jump drive was invented by the Beyonders. That enabled them to work together more easily, and eventually, they joined forces, calling themselves Union.
When Downbelow Station opens, full-on war between Earth and Union has been in swing for some time, and Union — with better technology, able to mass-produce cloned soldiers in vats — is winning. The Company fleet has been reduced to a ragtag guerrilla force, all but disowned by an out-of-touch Earth. Its ships survive only because they operate as near-independent units, striking at Union quickly and then retreating into hiding.
If there is a driving theme of this book, it is the clash between independent desires and the good of the group as a whole. The story begins with the Company's Captain Signy Mallory forcibly docking at Pell to drop off six thousand refugees from two other stations, recently all but destroyed. For years, Pell has served as a neutral zone on the border between Company and Union space; with the arrival of the refugees, that fragile neutrality starts to shatter.
The refugees are crammed into a locked-off quarantine section ("Q"), as they're frightened and in some cases violent, and most lack any identification — Pell can't risk a secret Union agent running loose in a vital area. Rapidly, the situation in Q devolves into one of everyone for themselves; when Vasilly Kressich, a former official from one of the ruined stations, tries to instate some sort of order, he unwittingly becomes the figurehead for a gang of thuggish ex-police.
Like an infection, the circumstances spread throughout the station and down to the planet below. War, and a population swollen by six thousand unexpected guests, means shortages of everything: resources, living space, mere time. Such acute scarcity turns people into rats, scrambling over each other heedlessly to bite at whatever's available.
And the inertia of it all imposes impossible decisions even on those who want to improve it: Stationmaster Angelo Konstantin can't afford to do much for the refugees — he has Pell's own population to take care of first — and so Q festers like a sore, one that will eventually erupt.
The unwillingness to share extends most critically to information: A group of Earth Company representatives allegedly wants to broker a peace with Union — but really, they're trying to buy time so that their forces can regroup. The Company fleet is supposed to be protecting Pell as a critical strategic point — but their leader, Conrad Mazian (who beats out Vannevar Morgan from The Fountains of Paradise for most awesome name in a Hugo novel so far), determined to defeat Union at any cost, has different plans.