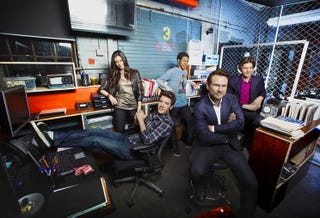 Need more proof that geek humor has gone mainstream? Check out the new trailer for Christian Slater's new show Breaking In, which name-checks Star Wars, Dragon*Con and Avatar. These days, TV shows prove they're hip by referencing geek culture.
Breaking In seems like a G-rated version of Sneakers. A group of hackers are hired to break into large corporations for security checks... but things go wrong etc. But what's interesting about the latest trailer is how little time the video spends on the group's mission. Instead we're shown clips of characters talking about science fiction icons — check it out:
We give them credit, it looks adorable and quite funny. That being said, it's pretty fascinating to watch shows that would normally slide into the mainstream slot for dramedy fodder are starting to lean heavily on the rapidly growing geek demographic. And they're not the only ones. Just this week images from the set of the teen drama 90210 revealed one of the characters in full Na'vi dress:
Image via Pacific Coast News Online.
And as we reported earlier this week Glee is taking on yet another genre staple by reenacting Michael Jackson's "Thriller" for their Superbowl episode.