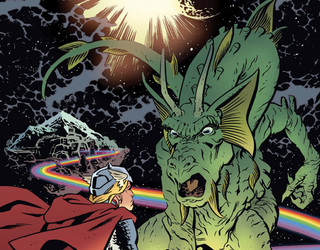 What tales were ensconced between the pages of 2010's best comics? Stories about psychic drugs, lunatic orcs, a lost Norse god, and a certain Toronto boy with relationship troubles.
Unlike films, approximately 47,000 comics came out in 2010. Ergo, narrowing this down to 10 titles was a grueling task. We may have left off some of your favorites. Hell, I was forced to relinquish some of my own monthly picks — hello, Sweet Tooth, PunisherMAX, and Unwritten! Therefore, we encourage you to post your own cherished 2010 titles in the comments. So without further ado...

Spider-Man: Fever by Brendan McCarthy (Marvel)
I love it when Marvel allows creators to run wild with their stalwart superheroes, so I got a kick out of this psychedelic miniseries from 2000 AD maven Brendan McCarthy. In this book, McCarthy shucks Peter Parker and Doctor Strange into an insect dimension full of Steve Ditko-esque flourishes and total eldritch weirdness. This was an exemplary Silver Age tribute that left you thinking it was printed on brown acid.

The Hellboy Books by Mike Mignola (Dark Horse)
2010 was a banner year for Hellboy titles. First off, there was the miniseries Hellboy: The Storm, which brought our hero to a major crossroads (and saw him brawl with a demonic hedgehog). There were also three immensely enjoyable one-shot comics:
1.) Hellboy in Mexico (Or a Drunken Blur), a Cinco de Mayo tale about vampire-hunting luchadores.
2.) Beasts of Burden/Hellboy, which teamed-up the hero with Evan Dorkin and Jill Thompson's supernatural pet detective team.
3.) And finally, the Richard Corben-illustrated Hellboy: Double Feature of Evil.
The Beasts of Burden crossover (above) also holds the coveted title of "The Cutest Comic Book of 2010."

Revolver by Matt Kindt (DC/Vertigo)
Matt Kindt's crafted a horrifying hypothetical in this scifi graphic novel — what if every time you hit the hay, you woke up in a post-apocalyptic facsimile of the real world?
In Revolver, Sam is a blasé twentysomething caught between two existences. When he falls asleep at night, he's transported to a parallel world in which society has collapsed and the United States is under martial law. When he falls asleep in this hellish reality, he wakes up to his boring life as a photo editor.
Naturally, living half his life in the post-apocalypse does a number on Sam's sanity, but he discovers a new purpose amongst the ruin. Kindt serves up this high-concept tale with deftness.

Grant Morrison's Batman Titles
Last April, Grant Morrison told us, "Obviously, I want to tell my definitive Batman or X-Men story [but] when it's time [to] leave, I'll try to leave the toys exactly as I found them." In 2010, Morrison didn't just take out the toys. He Semtexed the whole damn toybox.