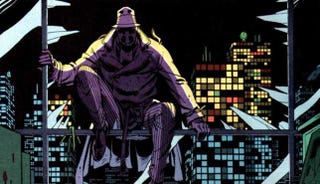 You've seen the video of how to make a Rorschach mask. (If you haven't, it's under the cut.) How does the paint change color?
There's a youtube video going around showing a gentleman, who heavily namedrops a site selling thermochromic paint, showing its watchers how to use that thermochromic paint to make a real Rorschach mask. In the comic, Rorschach's mask has a black blob which changes in every panel. In the movie they used computer-generated graphics to get the same effect. In real life the wearer's breath makes the dye switch between clear and black.
Some thermochromic dyes are made with color-changing liquid crystals, which we have already discussed. Going to the website, I saw that the paint advertised had a warning that it would lose effectiveness if it were exposed to UV light. This is not a common warning associated with liquid crystals, but it is one associated with leuco dyes.