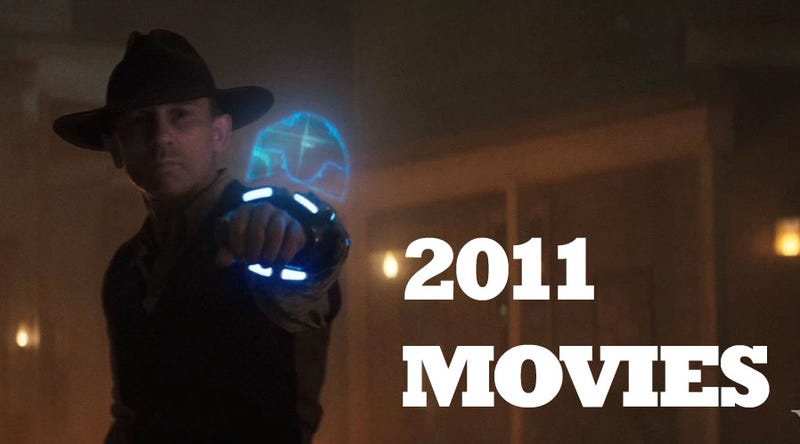 Could this be the biggest year ever for fantastical movies? It certainly looks like it. The calendar is bursting with films about aliens, weird creatures, superheroes and magical worlds. Here's our complete guide to 2011's science fiction and fantasy films.
We know, 55 films seems like a lot. We aimed to do a list of just 25 or 30 — but when we started listing all the films this year that we could include, we ended up with 64, and had to whittle it down.
Season of the Witch (January 7)
Nic Cage looks confused about why he's in this movie too. Cage plays a medieval crusader who has to bring an accused witch to a remote mountainous abbey in this fantasy adventure. Also starring Ron Perlman and Claire Foy.
Outlook: All signs point to "so bad it's amazing" territory.

The Green Hornet (January 14)
Seth Rogen stars in the movie adaptation of the classic radio serial and TV show, about a newspaper heir who becomes a masked hero — and he decides to pretend to be a bad guy. From director Michel Gondry, who's found a weird new way of filming action.
Outlook: With Gondry (Eternal Sunshine of the Spotless Mind) directing, it should at least be fascinating.

Evangelion: 2.0 You Can (Not) Advance (January 21)
The second film in the anime movie series, finally being released in the U.S. after being one of the biggest anime hits of 2009 in Japan. The film introduces two new pilots, Makinami Mari Illustrious, and Asuka Langley Shikinami.
Outlook: It seems to have gotten great reviews, with lots of websites saying it's better than the first one.

The Rite (January 28)
A supernatural thriller. A priest reluctantly goes to the Vatican to attend exorcism school, and then meets a maverick priest (played by Anthony Hopkins!) who reveals that the Devil's reach goes much farther than he expected.
Outlook: It's got Anthony Hopkins as a spooky priest. Scenery will be chewed.

I Am Number Four (February 18)
The movie adaptation of the "alien goes to high school" novel, from James Frey's book assembly line. From director D.J. Caruso and producer Michael Bay.
Outlook: It'll look pretty, and there'll be splosions and cute young people. Don't think too hard about the plot, you'll strain something.

Drive Angry (February 25)
Now here's a movie that looks like Nic Cage belongs in it! He's a dead guy who breaks out of Hell to stop the cult that killed his daughter from sacrificing her baby. Let's hope he actually drives through the gates of Hell.
Outlook: This could be the film we wanted Ghost Rider to be.

The Adjustment Bureau (March 4)
Based (loosely) on a Philip K. Dick story, this film stars Matt Damon and Emily Blunt as a Congressman and a ballerina who discover that sinister forces are trying to keep them apart. So it's sort of a Dickian reality-warping film, but with a love story.
Outlook: It's been delayed a few times, which is a bad sign. But it could still be cool.

Apollo 18 (March 4)
The next "found footage" movie is just filming now, for a March release. It has to do with a final Apollo mission to the Moon that NASA claims never took place — but newly discovered footage proves the mission actually discovered something sinister.
Outlook: Maybe they'll be editing it in the projection room as you watch it.

Battle Los Angeles (March 11)
Aliens invade Earth, and we witness the battle in one city, with Aaron Eckhart as a sergeant who has to keep it together. Also starring: Michelle Rodriguez.
Outlook: It's supposed to be a gritty war drama, that happens to have aliens. It sounds fun, at least.

Mars Needs Moms (March 11)
Based on the book by Berke Breathed, this cartoon follows a boy whose mom gets abuducted by aliens — so he has to go to Mars to get her back.
Outlook: The trailer looks seriously fun.

Red Riding Hood (March 11)
Twilight director Catherine Hardwicke directs this "Little Red Riding Hood" story, with Amanda Seyfried as a girl who's — wait for it — torn between two men: the brooding Peter and the wealthy Henry. But then a werewolf breaks an ancient truce with the humans and takes a human life, and Valerie suspects it may be someone she loves.
Outlook: It sounds Twi-tastic.

Suing The Devil (March 11)
A struggling law student decides to sue the Devil for $8 trillion — although how he expects to collect, we're not sure. But just as he's about to win a summary judgment, the Devil shows up — played by Malcolm McDowell. And the trial of the century results.
Outlook: Malcolm McDowell as the Devil in a silly courtroom drama? We're on jury duty!

Beastly (March 18)
A "Beauty and the Beast" retelling, with I Am Number Four's Alex Pettyfer as a hot young jock who's punished for his arrogance by being turned into a punky freak. He has to find someone who can love him in spite of his appearance, or be stuck forever.
Outlook: The trailer makes it look like a quadruple fondue — most cheesy movies only manage double or triple fondue.

Limitless (March 18)
A copywriter (Bradley Cooper) discovers a drug that gives him superhuman powers, but as he starts to probe the drug's origin, a group of shadowy killers is on his trail. Also starring Robert De Niro.
Outlook: The viral marketing for this film has made it look demented, and totally awesome.

Paul (March 18)
The long-awaited (by us, anyway) comedy starring Simon Pegg and Nick Frost as two nerds who come to the United States on a roadtrip — and meet a real alien, Paul (Seth Rogen). With guest stars Sigourney Weaver, Kristen Wiig, Jeffrey Tambor and Jason Bateman.
Outlook: This film sounds like it'll be Pegg and Frost at the height of their powers, with a sublime level of silliness and nerdery.

Sucker Punch (March 25)
Zack (Watchmen) Snyder is back with the story of a young girl in a mental institution. She retreats into a bizarre fantasy world, which helps her hatch a plan to escape from the facility.
Outlook: This is the first original world Snyder's ever created. It'll definitely look pretty, judging from what we've seen so far.

Source Code (April 1)
Duncan Jones (Moon) returns with a bigger budget, telling the story of a guy (Jake Gyllenhaal) who has to keep reliving the last eight minutes of a man on a train before it explodes.
Outlook: The trailer looks a bit silly, to be honest — but it's Jones, who made one of 2009's best films.

Super (April 1)
Rainn Wilson (yes, Dwight from The Office) stars in this DIY superhero movie from Slither's James Gunn. Guest-starring Nathan Fillion as the Holy Avenger, a slicker superhero.
Outlook: Early reviews are ecstatic. And we can't wait to see Gunn and Fillion reunited.

Hop (April 1)
Out-of-work slacker Fred O'Hare (James Marsden) runs over the Easter Bunny (Russell Brand) in his car. So Fred has to take in the bunny as he recovers, and help the bunny save Easter.
Outlook: It could be this year's Garfield. Or Yogi Bear. Or maybe the second Gnomeo and Juliet of the year.

Your Highness (April 8)
A silly fantasy epic spoof — Prince Fabious (James Franco) and his useless brother, Prince Thadeous (Danny McBride) must journey to rescue Fabious' bride. Also starring Natalie Portman and Zooey Deschanel.
Outlook: The trailer looked hilarious, and the cast is amazing.

Thor (May 6)
Kenneth Branagh (!) directs the next Marvel Comics movie, about the Asgardian Thunder God who's cast down to Earth and finds love with the suddenly ubiquitous Natalie Portman.
Outlook: There were rumors of troubles on set, but we're still hoping this will live up to the old Walt Simonson comics. The trailer looked cool.

Priest (May 13)
Paul Bettany (Legion) is back in another weird supernatural thriller — this time, it's a post-apocalyptic world and the human race has fought a nasty war against vampires. Bettany defies the ruling priesthood to go out into the wasteland to look for some people who've been taken prisoner. Also starring Maggie Q as a priestess.
Outlook: We haven't had a good all-out post-apocalyptic action movie in a while, so let's hope Priest is this year's Doomsday.

Pirates of the Caribbean: On Stranger Tides (May 20)
This time, there are zombies. And they're looking for the Fountain of Youth. And Captain Jack has a rival captain, played by Penelope Cruz.
Outlook: It's the fourth Pirates movie — it's going to be ridiculous and overstuffed and silly, and Johnny Depp will hopefully rescue the whole thing.

The Tree of Life (May 27)
We don't really know what this Terence Malick film is about — only that it's conceptually challenging and weird, and it stars Sean Penn as a lost soul in the modern world. And then Jack discovers "the eternal scheme of which we are a
part," and sees that every thing in the world is a miracle. And this enables him to forgive his father. Also starring: Brad Pitt.
Outlook: If it's as mold-breaking as we've heard, it'll at least be one of the year's most interesting films.

X-Men: First Class (June 3)
The fifth X-Men movie (if you count Wolverine) is a prequel, taking place in the 1960s, that traces the story of how Professor X and Magneto went from friends to enemies.
Outlook: With Kick-Ass director Matthew Vaughn on board, and a cast that includes James McAvoy and Michael Fassbender, this ought to be good — unless the suits have micromanaged it too much.