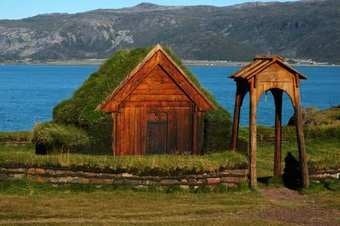 What do Viking colonies teach us about space colonization? The former offers a dire lesson about why the latter may become necessary. Paul Gilster of Centauri Dreams discusses the circumstances that could force humanity to avoid a "planetary Greenland."
Although Jane Smiley has made the haunting story of the Viking settlement of Greenland widely known in her novel The Greenlanders (Knopf, 1988), we have few modern accounts that parallel what happened in remote places like Brattahlið and Garðar, where Erik the Red's settlements, which had lasted for 500 years, eventually fell victim to climate and lack of external supplies. But local extinctions and near-misses are important because, as John Hickman explains in his new book Reopening the Space Frontier (Technology and Society, 2010), they promote the kind of story-telling that Smiley is so skillful at, advancing the case that not just settlements but entire species can fail when conditions turn ugly.
In this excerpt from the book, Hickman writes about three modern parallels to 15th Century Greenland, the first being the Sable Island mutiny, where provisioning ships to a French penal colony in the north Atlantic stopped arriving in 1602. The demise of the Sadlermiut Inuit is another case in point, the 58 remaining members of this Dorset culture population expiring due to the effect of infectious disease after a Scottish whaling ship reached Hudson Bay. And then there is Clipperton Island, an eastern Pacific atoll that collapsed when provisioning ships stopped bringing supplies during the Mexican Revolution.